Three
THS

wrestlers win titles, team takes 4th in Wamego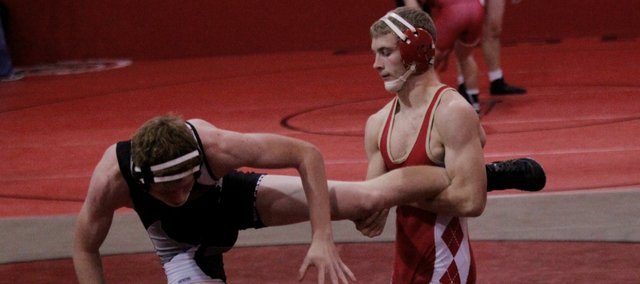 Photo Gallery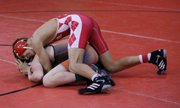 THS wrestling at 2013 Wamego Invitational
The Tonganoxie High wrestling team took fourth Saturday at the Wamego Invitational.
Wamego — For some Tonganoxie High wrestlers, Saturday's Wamego Invitational was a chance to break into the varsity scene. For others, it was a chance to set the tone for a successful season. At the end of the day, both goals were accomplished.
Clayton Himpel (132 pounds), Garrett Martin (138) and Asher Huseman (152) each won individual titles, leading the Chieftains to a fourth-place finish in the team standings. The season-opener marked the first varsity action for six wrestlers, who competed in at least three matches each.
"The more mat time, the better," coach Jeremy Goebel said. "Our goal each week is to better ourselves from the previous year at that tournament, but for those guys to step in and get some matches and see the level of varsity, that learning tool can be evident in their practice routine."
Himpel, Martin and Huseman each went 5-0 to win their respective weight classes. All three pinned their opponents in the finals. Huseman finished with five pins and Martin had three. Himpel's only pin came in the finals, but he won three matches by tech fall.
Luke Carey (195) and Zeke Kissinger (220) also reached the finals, but were pinned in the last round. Carey had four pins and Kissinger three.
"Them going there, they expected that," Goebel said of the veterans' performances. "Especially being fairly young elsewhere in our lineup, them showcasing that at the first tournament is a great tool for the others to look at."
In his first match, Kissinger pinned Tommy Palm of Falls City (Neb.) in just six seconds, tying the school record set by Jon Harris in 2006-07 and tied by A.J. DeMaranville in 2007-08.
The Chieftains, who finished with 187.5 team points, jockeyed for position with host school Wamego throughout the tournament. They entered the medal rounds just four points ahead of the Raiders and briefly fell behind in the standings, but their three victories in the finals left them six points ahead of WHS in the final standings.
Class 5A Salina Central (289) won the team title, followed by 4A schools Abilene (235) and Ottawa (198.5).
Goebel's squad will be back on the mat at 1:30 p.m. Friday when it heads to Eudora for the first day of the Tournament of Champions. The two-day event features 23 schools ranging from 3A to 6A, including Kaw Valley League members Lansing, Mill Valley and Piper.
"We have some areas we have to fine-tune," Goebel said. "We need to be able to score from certain positions where we were consistently getting stuck. That will help us when we get in those positions. We're just looking to improve in terms of our results on Saturday, but conditioning is also a factor."
The second day of the tournament will begin at 9 a.m. Saturday.
Overall team scores
Salina Central, 289; 2. Abilene, 235; 3. Ottawa, 198.5; 4. Tonganoxie, 187.5; 5. Wamego, 181.5; 6. Concordia, 119; 7. Rock Creek, 92.5; 8. Chase County, 90; 9. Falls City (Neb.), 80.5; 10. Hayden, 34; 11. Herington, 29.
THS individual results
Name, Record (Tourney finish)
106 — George Lang, 2-3 (Sixth)
113 — Tyler Salmon, 1-3 (Eighth)
120 — Jay Willcutt, 1-2 (Ninth)
126 — Jordan Boudreaux, 2-2 (Fifth)
132 — Clayton Himpel, 5-0 (First)
138 — Garrett Martin, 5-0 (First)
145 — Heath Martin, 0-5 (10th)
152 — Asher Huseman, 5-0 (First)
160 — Dylan Kroll, 1-3 (Eighth)
170 — Joe Wolf, 0-4 (Ninth)*
182 — Tyler Warthen, 0-5 (Sixth)
195 — Luke Carey, 4-1 (Second)
220 — Zeke Kissinger, 4-1 (Second)
*Forfeited final three matches (injury)