Widow honors late husband through memory quilts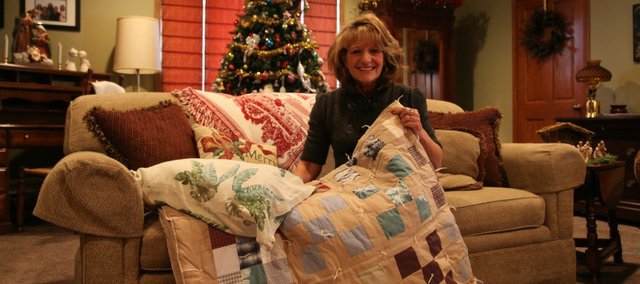 Steve Sturgeon listened to Christmas music year around and preferred to wear Hawaiian shirts any chance he could.
A unique combination, but one that fit him fine, said his wife, Tracy Sturgeon.
"He had a lot of Hawaiian shirts," Sturgeon said. "They were nice and comfy and they didn't have to be tucked in."
And those holiday tunes.
Steve would be in his shop working on various cabinetry projects. August or December, he loved yuletide carols.
"'White Christmas' would be blaring when it was 110 degrees outside," Tracy said of her husband's favorite song.
Christmas also was Steve's favorite holiday. He loved to put up lights. After he had placed all the decorations, the family had to drive along the road to see the masterpiece from all angles before driving up the driveway.
"It was like the Griswolds," Tracy said. "I don't even know how many lights we had. But if you flicked on the bathroom heater, the power would go out."
Steve, from the Tonganoxie area, and Tracy, from Sumner, Iowa, near the Minnesota border, met while attending Kansas University.
They married in 1976 and had three daughters. Together they owned Air Specialists Inc., a wholesale distributor for RV parts, and the Country Hills manufactured home community.
Those Hawaiian shirts came in handy for vacations as well. Steve loved cruises, Tracy said, whether on several trips to the Caribbean, or other cruises to Alaska, Mexico and Europe.
Just more than a year ago, Steve died after a three-year battle with lung cancer. He was 58.
Tracy gave some of Steve's clothes to Goodwill, but those Hawaiian shirts — they had to stay.
She liked the idea of using Steve's shirts to help form memory quilts, but she wouldn't be the one creating them.
"I'm really not a big seamstress and I'm definitely not a quilter," Tracy said.
But her friend Janette Bouldin is.
Bouldin made a handful of quilts with various blocks incorporating Steve's shirts.
Tracy might not quilt, but she was crafty enough to make travel pillows with portions of Steve's shirts for her children and grandchildren.
"They call it their Papa Pillow," Tracy said about the grandchildren.
Bouldin made quilts for Tracy and her daughters.
Tracy's quilt has 25 blocks featuring Steve's various shirts with blocks of shirts making a border of squares around the 25 inner blocks.
When Tracy showed her quilt to Steve's doctors, they said they could recall Steve wearing the specific shirts incorporated into the quilt.
All of Steve's Hawaiian shirts are now part of quilts and pillows — vivid reminders of a man who could be found hanging thousands of Christmas lights or listening to holiday music while making furniture for loved ones in his shop.
"His shirts were just very recognizable," Tracy said. "They were just Steve."