From tragedy to triumph: Former Basehor reporter publishes book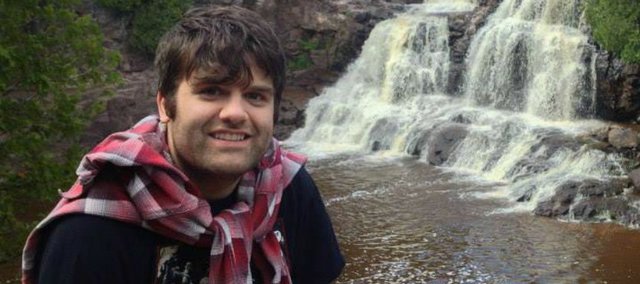 The beginning of Andy Marso's new book about contracting bacterial meningitis and his fight to survive the infection begins in Basehor, with him at work doing what he loved, covering Basehor-Linwood High School sports.
While covering a Bobcats softball doubleheader in the cold rain, he began to feel ill with what he thought was just a fever.
"He got my attention and was just shivering like I'd never seen before," softball head coach Susan Mayberry remembered recently. "He was apologetic, saying he was sorry but he had to go home because he thought he had the flu."
The next morning, Marso was in a hospital room, fighting for his life.
Marso's new book, "Worth the Pain — How Meningitis Nearly Killed Me — Then Changed My Life for the Better," published in November by Kansas City Star Books, details every step in his fight to survive the dangerous and extremely rare illness.
In it, he writes about Basehor and the countless relationships he cherished throughout his recovery.
"I did get kind of emotionally involved with the teams and the kids," said Marso, now a reporter at the Topeka Capital-Journal. "There were plenty of kids that showed heart in tough circumstances and that, in a way, inspired me when I was in the hospital."
Marso was working for the Basehor Sentinel while studying journalism at Kansas University. Though he'd been covering Basehor for less than a year when he became ill, he had already developed strong relationships with many in the community, said Mayberry, who is now entering her 17th year as head coach of the softball team.
"He made all of our sports and all of our athletes feel important," Mayberry said.
Marso contracted meningitis B, a strand of the bacterial infection lacking a vaccination approved by the U.S. Food and Drug Administration. A vaccine has been approved for use in Europe and Australia, and Marso is now advocating for its use here. Marso has been a voice of authority on meningitis since the publication of his book. The Washington Post interviewed him last week because of the recent outbreak of meningitis B at college campuses across the nation. This week, approval has been given for use of the vaccination at Princeton University only.
"Why are we not offering it to the general public?" Marso said. "It's frustrating, but I'm hoping it will change soon."
Marso's fight with the infection caused his body irreparable damage. He underwent about a year of intense physical therapy and burn therapy to save his legs and arms.
"Meningitis is something that can take a perfectly healthy human being and kill them in less than 24 hours," Marso said, noting that college students are six times more likely to contract it because of their close living quarters.
Marso hopes his new book will raise awareness about meningitis and will inspire hope in people who feel like they are in a hopeless situation.
"It's kind of a new mission I have, something I have been given," Marso said.
His book includes a forward written by Kansas University women's basketball coach Bonnie Henrickson, who visited Marso in the hospital in 2004. Marso covered some KU sports in his time studying journalism, and he said Henrickson connected with his story because she had witnessed one of her former athletes fight meningitis in the past.
Marso has had book signing events at Washburn University and at the University of Maryland, where he earned his master's degree in journalism several years after leaving Basehor. The book is available to purchase online on Amazon.com.
Today, almost a decade after Marso contracted the infection, he credits Basehor and its close community with helping him rebound from the illness and pursue his dreams of writing and reporting.
"I had a fairly strong apprehension as to how people were going to react to me," Marso said. "It was really helpful to ease me back into normal life, going back to Basehor, and seeing that this was not going to hinder the rest of my life. The people of Basehor were incredible."