THS

wrestlers to host annual invite Saturday
Chieftains also wrestle Thursday in Carbondale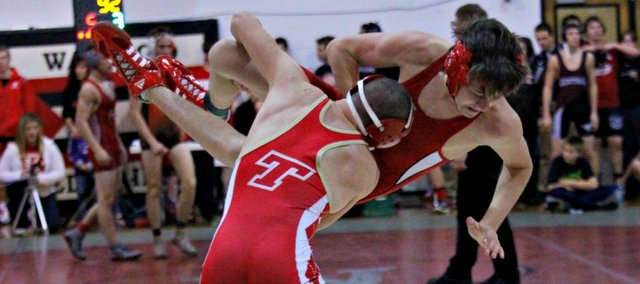 Randy Starcher Memorial Invitational
When: 9 a.m. Saturday
Where: THS east gymnasium
Who's competing: Atchison, Bishop Ward, Doniphan West, Frontenac, Jayhawk-Linn, Louisburg, Olathe Northwest (JV), Oskaloosa, Perry-Lecompton, Piper, Shawnee Heights, Tonganoxie
Returning THS champs:
Garrett Martin
Clayton Himpel
Asher Huseman
Last 10 team champs:
2012-13: Tonganoxie
2011-12: Tonganoxie
2010-11: Shawnee Heights
2009-10: Louisburg
2008-09: Tonganoxie
2007-08: Tonganoxie
2006-07: Tonganoxie
2005-06: Baldwin
2004-05: Baldwin
2003-04: Louisburg
A late withdrawal from the Eudora Tournament of Champions gave the Tonganoxie High wrestling team an unexpected break last weekend. The Chieftains have returned to the mat, and with just three days remaining before winter break, they're as busy as ever.
THS will travel Thursday to Carbondale for a 5 p.m. triangular with Ottawa and Santa Fe Trail, then return home Saturday to host 11 schools for the annual Randy Starcher Memorial Invitational.
Nearly two weeks removed from its only live competition so far — a fourth-place finish Dec. 7 at the Wamego Invitational — THS will look to replicate its recent success against the Cyclones and Chargers on Thursday. The Chieftains have swept the last two meetings, including a 78-0 shutout of OHS two years ago at home.
They've already gotten a look at Ottawa — a third-place finisher at Wamego — which coach Jeremy Goebel said should provide some extra incentive in Thursday's rematch.
"Heads up against them, we didn't win every match," Goebel said. "Those guys definitely have something to work on for us to be able to have some revenge and continue to be the dominating team."
Last year's competition took place in Ottawa. The Chieftains defeated the hosting Cyclones, 55-24, and took down Santa Fe Trail, 52-27.
Thursday's competition will be the first in a dual setting for several Chieftains making their varsity debuts this winter.
"It's going to reiterate the team concept we've been preaching from day one," Goebel said. "It's important that we start off right from the get-go and wrestle hard for six minutes. If we can put ourselves in position for six minutes, we're going to do good things."
Two days later, Goebel's squad will try to win its third consecutive team title in its own gym. The tournament field consists of Atchison, Bishop Ward, Doniphan West, Frontenac, Jayhawk-Linn, Louisburg, Olathe Northwest (JV), Oskaloosa, Perry-Lecompton, Piper and Shawnee Heights.
"I think it's a great way to end the break with our tournament," Goebel said. "These kids, they're excited to wrestle in front of their peers at home. It kind of provides us a little bit more incentive when we're out there wrestling.
"We'll just take one match at a time and make sure we leave our mark. It's a great way to end the break. We want to continue to make that push a little more each time we're on the mat."
A title Saturday would match the team's run of three consecutive championships from 2006-07 to 2008-09.
Senior Clayton Himpel (132 pounds) and juniors Garrett Martin (138 pounds) and Asher Huseman (152) return after winning individual titles at last year's tournament. Ten Chieftains reached the finals as they held off Class 5A Shawnee Heights for the team title.
After the tournament, the Chieftains won't return to the mat until a Jan. 9 trip to Spring Hill.