Letters to Santa: Children pen wish lists for St. Nick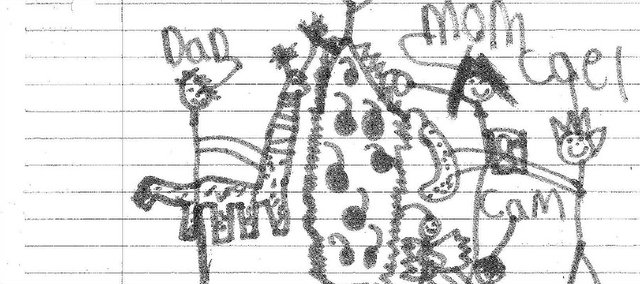 Editor's note: Several area youths dropped off letters to Santa Claus at the Tonganoxie Post Office. Before they were postmarked for the North Pole, The Mirror obtained a few of those letters. Here are those letters as the children wrote them:
Dear Santa,
I have been a good boy this exept for a few days. Here are my top 5 toys i want … mega centruin, blazing bow, 5-pk monster jam stadium, skuylanders swap force, lego ninjago brickbuilder. p.s. I will make you cookeis and your Reindeer vegiees
P.S. my Brother has been good to and he wants a tummy stuffer and hugging elmo.
From Cael Jay Dye
Hi Santa
What type of cookies do You Like.
i would Like a drumset and Books.
Love, Aria Rogers
Dear Santa
I have been good.
This is what I want for Christmist. The NiNTENDO DS Books home work cklip bord. Lite up Shoo Lasis.
How is Misis Clos. Wat kind of cookies do you want I hope you are feeling. Good by
LOVE MALLORY Rogers
God Bles
Dear Santa claus I want a navi, new Reebox, I Pad, Kindle, Kindle Fire HD, TV, computer, every Reebox in the world, Dairy of a wimpy kid set, Mom Christmas list, A new battery fanny Bett Boop watch, Betty Boop PJ's, shirt, socks, glasses, hat, gloves, underware, doll, ball and Pillow, Dad Christmas list, KU shirt, basketball, football, hat, sweats, clothes, alarm and free ticket.
From Jacob
I want a purple techno and a city of orbys and a zoomer. And sage want a pink zoomer.
Sincerely,
Haven Collette
Dear Santa,
I would like awand for my hari, a i pod touch, some orbies, a pair of pj's, Adventures for the x box 360, easy bake oven, Scooby doo for my DS, a mirror for my room, a balance bar, a rubber band bracelet maker, dangly earings, makeup stick on nails, kick but glue or jel. I would prefer jel, a pair of slippers, like moms, hair chalk
Thank you, Santa!
Madison Kendrick
To Santa
Ninja turtle sewer set
Donatello, Miky
Moose
paint brushes
Grave digger flat car
a dog for my little sister
Cody Lobb
Dear Santa,
I just wanted to thank you so much for what you do for little kids! And again thanks for my iPad last year! I love it, and even better, now that you guys down there have iPads, I can write, Dottie, my Scout Elf, some letters. I really enjoy this time of year because it does actually look like you are walking in a Winter Wonderland! Just like that song says. So, how are the reindeer and Mrs. Claus, and of course the elves., how are they doing? I am so excited for this year, not like I haven't been always htough, because, I have a feeling this year is going to be awesome!
So, what have you been up to? I hope something is going on in the Good Old North Pole! This may seem like such a small letter, and I am so sorry about that, but I have asked Dottie almost all questions I can about you and The North Pole. Oh! Here is the picture I was talking about with the Underarmor hoodie/sweatshirt.
(Photo included)
Anyway, have a holly jolly Christmas. And see ya soon, soon, soon!
Love,
Frankie Downing.
Dear Santa
Hi! How is Prancer, Dasher? I hope you will feel better this year. I really want a remote conrol R.c.car, remot conrol airplane, remote conrol Drop strike.
sincerely,
Dakota Plake
Dear Santa,
Ninja Turtle Set
Nt Mobile
NT helico
puter
Nagi
Ridge Lobb
Dear Santa,
Hi what kind of cookies do you like?
How are the reindeers doing. I would pop the pig marker maker Sky Landers swap Force.
Sincely
Noah Beach
Dear Santa,
Hi! I hope you are getting ready for Christmas. I would like a zoomer and Gak and K-State Slippers.
Sincerely
Lilly Jensen
Dear Santa
Hi Santa. I would like for Christmas is a Diary, I Pod, and a tummy stuffer. I hope you are getting ready for Christmas
Love
Lacie Gallagher
Dear Santa,
I have been a good little boy. I have been using my words and using the big boy potty. I really love trains this year. I also really like Calliou. We will have milk and cookies at my house for you.
Love,
Jesse James Quisenberry
Dear Santa,
I'm quitting to suck my thumb. I want a doc puzzle. I love you, Santa! Miss you Santa, love you. I want you to come to my house right now. Thank you for bringing me some gifts.
Love,
Emily Quisenberry