A new era: McLouth High School introduces
FFA

chapter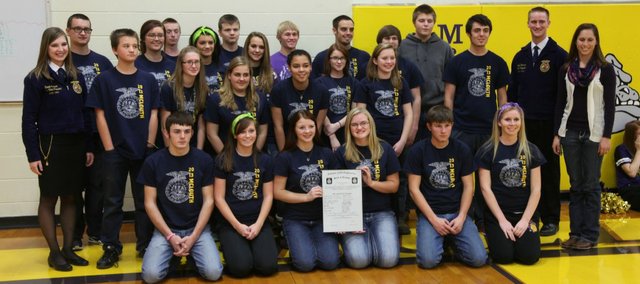 Kansas has been a part of the national FFA organization since 1929.
Earlier this month, McLouth High School made history, joining the longstanding organization.
FFA, which formally went by the name of Future Farmers of America, is a national student organization that specializes in agriculture and other activities such as speech, record keeping and parliamentary procedure.
State officers were on hand Dec. 6 for a ceremony in which McLouth FFA members signed a charter. Students took turns reading portions of the FFA Creed during the signing.
McLouth FFA President Emma Evans said she was ecstatic that her high school now has its own chapter.
"I really enjoy supporting agriculture and being active and a part of it because I myself live on a small farm," she said.
The MHS chapter has gone to a Greenhand Conference for first-year FFA members, dairy cattle and horse judging competitions and a speech competition.
Members also have sold fruit and baking supplies for a fundraiser and plan to celebrate National FFA Week this winter with the popular Drive Your Tractor to School Day and other festivities.
MHS FFA adviser Nicole Hinrichsen is no stranger to FFA — or the area.
The Tonganoxie High School graduate recently finished her degree at Kansas State University. She also participated in FFA at THS.
She said 23 MHS students joined the McLouth FFA in the first semester of its existence, 17 of whom signed up for judging contests.
She said students have jumped in and are getting involved in all the organization offers.
"The willingness is there," Hinrichson said.
Now she's trying to incorporate things she's learned from her own FFA experiences — from THS adviser Randy Kraft as a student, from the Marysvillle FFA as a student teacher and from her FFA mentor Jason Larison, adviser at Holton.
The ceremony took place during a Dec. 6 assembly at MHS. Carrie Carlson, a K-State freshman and current Kansas FFA vice president, and Daryl Simmons, a Butler Community College sophomore and Kansas FFA reporter, were on hand for the ceremony. They told students about the many opportunities FFA offers. It's an inclusive group, the officers noted. Students don't have to be enrolled in agriculture classes to be in FFA.
Simmons hails from Barnard and Carlson from Lincolnville, two small Kansas towns. They said they enjoyed visiting schools — big or small — throughout the state that are starting FFA chapters. Both recently were in Maize, a Class 6A school in suburban Wichita, to welcome a new FFA chapter there.
Though ag classes are not required for FFA members, the new chapter means new classes at MHS.
Ag science, ag business and animal science are a few offerings. Evans is enrolled in ag science and plans to enroll in animal science next year.
Ag science is one of her favorite classes. And she's eager to enroll in animal science next school year.
"I think I enjoy learning about animal science the most," she said.
A member of Cracker Jacks 4-H Club, she also shows angus heifers and show sheep at the Jefferson Co. Fair.
Angela Dailey, McLouth FFA secretary, is a member of the same McLouth 4-H Club and has shown sheep, bucket calves and steers at the Jeff. Co. Fair.
Her family farms and owns Dailey Ag, fertilizer and feed store in Oskaloosa. She's enrolled in ag business this year.
"When FFA came to our school, I thought I should get involved," the MHS junior said. "Ag has been my entire life."
She's enjoyed dairy judging and parliamentary law exercises — and seeing various students get involved in FFA at McLouth.
"It's just nice to see how many different types of people are interested in it," Dailey said.
Though Evans plans on becoming a pharmacy major in college, she's grown up on a farm and plans to have a small farm of her own when she's older.
"It's been really fun being the most active and being able to plan events and activities," Evans said.