Chieftain boys cruise by Anderson County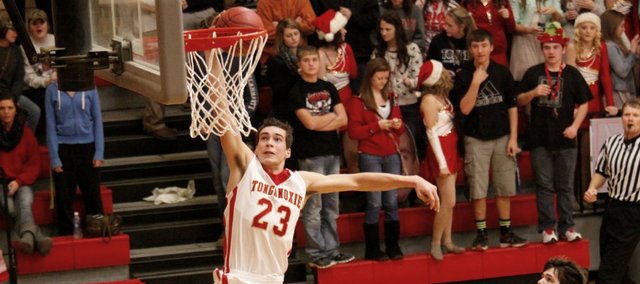 Just two days after suffering a running-clock loss, the Tonganoxie High boys flipped the script.
A dominant second quarter powered the Chieftains to their first win of the season, as they closed out 2013 Thursday with a 56-28 drubbing of Anderson County. THS (1-2) allowed just nine first-half points and used a 20-0 run to set the tone early in the contest.
"We decided to finally get out and actually pressure the basketball a little bit," coach Shawn Phillips said. "We were not happy with how we played defensively on Tuesday, so we talked about really having an attitude on defense and make the other team adjust to what we're doing."
The teams were tied at 6-6 after the opening period, but Phillips' squad scored the first 20 points of the second quarter to take control. The Chieftains didn't let up before the break and took a 30-9 lead into the locker room.
Anderson County (0-3) struggled mightily against the THS defense in the first half, connecting on just three field goal attempts. The Bulldogs opened scoring with a 3-pointer by Spencer Walter in the game's opening minute, then didn't hit another field goal until a layup by Jordan Null with 38.1 seconds left before halftime.
"We wanted to really amp up the pressure on their guards because we knew we could get out with our longer guards," THS senior Tyler Ford said. "We just wanted to put pressure on them outside the perimeter."
ACHS cut the lead to 16 late in the third quarter, but the Chieftains scored the final eight points of the period to erase any thoughts of a comeback. A free throw by sophomore Jack Dale increased the lead to 30 with 2:48 left in the fourth, and a running clock went into effect.
The THS victory was a 57-point swing from its last action — a 78-49 loss Tuesday at Piper.
Dale led all scorers with 16 points, while Ford and juniors Jared Sommers and Greg DeVeau each added eight. Sommers and DeVeau are among several players logging their first extended varsity minutes in 2013-14.
"We have some guys we think can help," Phillips said. "Here at home, things were going well, so we thought we could get the younger guys some time. They need to be a part of the rotation if we can get them there."
Walter led Anderson County with 10 points. He was the only Bulldog to reach double figures. As a team, ACHS shot 37.9 percent (11-of-29) and committed 28 turnovers.
The Chieftains will return to practice Dec. 27. They'll open the 2014 portion of their schedule Jan. 7 at home against Bishop Ward.
"We've got to continue to try to build on our energy level in practice," Phillips said. "We want to continue develop the things we want to do, and hopefully we'll be ready to go when we come back out."
Score by quarters
Anderson County 6 3 12 7 — 28
Tonganoxie 6 24 15 11 — 56
Individual scoring
ANDERSON COUNTY: Spencer Walter 4-10 0-2 10, Ian Comfort 2-2 2-8 6, Jordan Null 2-2 1-3 5, Chase Ratliff 1-3 0-0 3, Jacob Rundle 1-4 0-0 2, Zach Hilliard 1-3 0-1 2.
TONGANOXIE: Jack Dale 5-10 5-6 16, Tyler Ford 4-11 0-1 8, Jared Sommers 4-6 0-0 8, Greg DeVeau 3-6 2-2 8, Eric Tate 3-5 2-2 8, Brady Swedo 1-2 2-2 5, Ben Johnson 1-3 1-6 3.