THS

girls get defensive in win vs. Bulldogs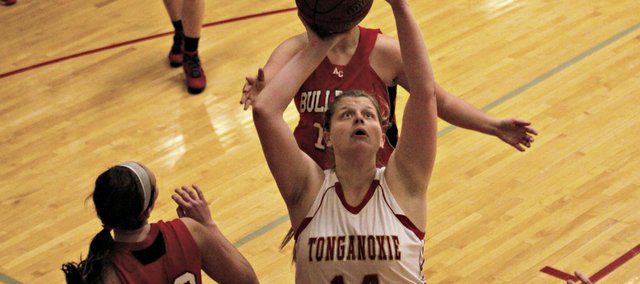 Coach Randy Kraft saw improvement from his team's first game to its second, but neither resulted in wins. The progress continued in game three, and the work paid off in the win column.
Two days removed from a five-point loss at Piper, the Tonganoxie High girls forced more turnovers than they allowed points in a 46-24 win Thursday against Anderson County. THS (1-2) coaxed the Bulldogs (0-3) into 27 giveaways while committing just 12 of its own.
"I don't know if we played as well as (we did against) Piper, but there were a lot of improvements in other areas and other things were just as good," Kraft said.
THS scored the game's first six points and kept Anderson County scoreless for more than four minutes. The Chieftains led by 11 at the end of the first quarter and never let the advantage reach single digits. They kept the pressure on in the second quarter and took a 27-10 lead into the locker room at halftime.
An offensive lull allowed the Bulldogs to hang around after the break, as THS didn't hit its first second-half field goal until a layup by senior Emily Soetaert with 2:35 left in the third quarter. The defense kept the game at hand, though, as ACHS never got closer than 13 points.
"They changed up their offense a little and we didn't adjust very well," Kraft said. "We let them have a few cheap ones there on the baseline. Teams are going to adjust to what you're doing, and we didn't for about four minutes there in the third quarter."
Soetaert tied fellow senior Katelyn Waldeier for the team lead with 13 points, but spent significant time on the bench while battling foul trouble. Less experienced players saw the floor in her absence and didn't allow the Bulldogs to mount a comeback attempt.
Guards Tressa Walker and Kaitlin Hall, both new to the varsity team, continue to gain experience in the backcourt. Walker, a junior, scored five points, including the team's only 3-pointer of the night. Hall, a sophomore, scored two.
"Since the other players hadn't seen much varsity time, they've really stepped up their game this year," said Waldeier, who also pulled down 10 rebounds for her first double-double of the season. "They came in knowing they had to step into those shoes, and I think they definitely have."
Anderson County's Samantha McCullough led the Bulldogs with six points.
Thursday's game was the last of 2013, as THS began its winter break Friday. The Chieftains will return to practice Dec. 27. They won't face live competition again until a Jan. 7 visit from Kaw Valley League opponent Bishop Ward.
"We'll all go into Christmas relieved," Waldeier said. "If you go into a long break after a lot of losses, you just feel drained, but now we're hopefully going to be excited to start back up again."
Score by quarters
Anderson County 4 6 10 4 — 24
Tonganoxie 13 14 7 12 — 46
Individual scoring
ANDERSON COUNTY: Samantha McCullough 3-6 0-3 6, Reagan Jirak 2-2 0-0 4, Tayler Porter 1-6 1-3 3, Maci Rockers 1-7 1-2 3, Madison Ratliff 1-2 0-0 2, Jamie Sutton 1-4 0-2 2, MaKayla Kueser 1-6 0-0 2, Paige Scheckel 1-7 0-0 2.
TONGANOXIE: Emily Soetaert 6-8 1-4 13, Katelyn Waldeier 5-9 3-8 13, Tressa Walker 2-5 0-0 5, Kara Banks 2-4 1-2 5, Cheyenne Ford 2-6 0-0 4, Sarah Ahart 1-6 2-4 4, Kaitlin Hall 0-2 2-2 2.