Bulldog boys hang on to defeat Oskaloosa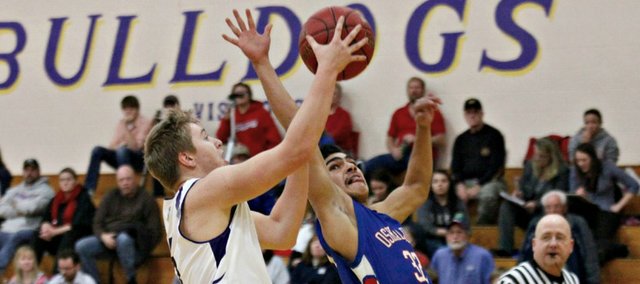 McLouth — The McLouth High boys saw an 11-point lead shrink to three in the final minutes, but held on for a 69-64 win Friday against rival Oskaloosa at home. The win was the first of the season for MHS and the first of coach Jason Graf's career as the Bulldogs' head coach.
MHS (1-2) entered the second half with a 36-25 lead, but the Bears cut the deficit to eight by the end of the third quarter. They continued to chip away and drew within three with 3:08 remaining, but a jumper by Drew Cerny and a free throw by Jack Courtney extended the Bulldog lead back out to two possessions. OHS didn't get closer than four the rest of the way.
"I felt we could score," Graf said. "It was just a matter of if we could get the stop at the other end. Our tempo slowed down in the second half, and that was a result of not getting stops. We made a slight defensive adjustment to try to fix that, and it seemed to work out."
Four Bulldogs reached double figures in the win. Dylan Dover led the way with 13, Cerny and Nick McAferty each had 12 and Courtney added 11. Oskaloosa's Colby Harris led all scorers with 28 points, including a 6-of-10 effort from beyond the 3-point arc.
MHS scored the first five points of the game and raced out to a 14-5 lead at the end of the first quarter. The Bears got within five in the final minutes of the first half, but Graf's squad scored the final six points of the second quarter to take an 11-point halftime lead.
McLouth will resume action after winter break when it hosts Bishop Seabury Academy on Jan. 7.
"I told the kids to be happy with the win, but don't be satisfied with it," Graf said. "On Dec. 27, we're going to come back to work and crank it up."
Score by quarters
Oskaloosa 5 20 23 16 — 64
McLouth 14 22 20 13 — 69
Individual scoring
OSKALOOSA: Colby Harris 9-16 4-5 28, Luis Rodriguez 5-11 0-0 10, Wyatt Hofstra 3-13 2-4 8, Justin Sharp 3-14 2-2 8, Bryce Stottlemire 1-6 4-4 6, Ethan Doores 2-3 0-0 4.
MCLOUTH: Dylan Dover 6-9 1-2 13, Drew Cerny 5-9 2-5 12, Nick McAferty 3-9 4-6 12, Jack Courtney 5-7 1-2 11, Wyatt Hermann 3-4 2-2 8, Nic Bair 2-8 1-3 5, Braden Schneider 2-3 0-0 4, Hunter Steffey 1-1 0-2 3, Kevin Gann 0-2 1-2 1.