MHS

girls score comeback win vs. Bears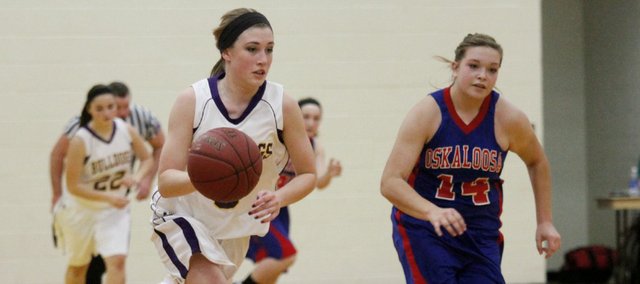 McLouth — After trailing for nearly three quarters, the McLouth girls used a late surge to get by the Bears in their 2013 finale, 44-39.
The Bulldogs (1-2) took a 27-26 on a bucket by Konner Patterson with 39.1 seconds left in the third quarter, erasing an Oskaloosa lead that existed since the game's opening minutes. The Bears regained the advantage at the end of the period, but MHS opened the fourth quarter on an 11-3 run to go in front, 38-31.
Five straight points by Oskaloosa's Maddy Miller made it a two-point game midway through the fourth, but Kayla Steffey sealed the victory with several free throws in the final minutes. Steffey led all scorers with 18 points, including the Bulldogs only two 3-pointers of the night.
MHS played the entire fourth quarter without starters Patterson and Anna Moore, who both fouled out in the final minute of the third. Dominique Tullis picked up her fourth foul during that stretch, but avoided a fifth in the final period.
"We only play six kids right now, so I had to have some kids play some significant minutes," coach Lindsey Graf said. "The girls could have folded on that, but stepped up to the challenge."
Angela Dailey added 10 for MHS, reaching double figures for the first time this season. Miller and Haidyn Bassett paced Oskaloosa with 13 and 11 points, respectively.
Oskaloosa led 15-7 after one quarter and extended its lead to six at halftime, 21-15. McLouth got within one point with 1:34 left in the third quarter, setting up Patterson's go-ahead bucket and the late surge to seal the win.
Score by quarters
Oskaloosa 15 6 7 11 — 39
McLouth 7 8 12 17 — 44
Individual scoring
OSKALOOSA: Maddy Miller 5-11 2-11 13, Haidyn Bassett 5-11 1-3 11, Tomi-Lyn Hickman 2-7 0-1 4, Raegen Hamm 1-2 2-6 4, Bree Brooks 2-7 0-2 4, Rachel Harding 1-2 1-2 3.
MCLOUTH: Kayla Steffey 6-22 4-7 18, Angela Dailey 4-13 2-3 10, Dominique Tullis 4-12 1-5 9, Konner Patterson 1-11 1-2 3, Shelby Turner 1-3 0-2 2, Shannon Greene 0-2 2-3 2.