BEST

OF

2013: Walbridge's Shrine Bowl performance voted year's top sports story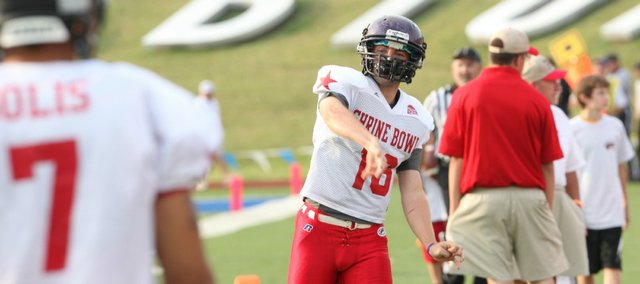 Individual performances, team championships and broken streaks highlighted yet another year of athletics in the Tonganoxie area. For some teams and athletes, 2013 was a year of firsts. For others, it was another chapter in an already storied history or career. Here are the top sports stories of the year, as voted on earlier this month by Mirror readers (click dates for original stories):
July 27: Walbridge perfect at Shrine Bowl, helps East end losing streak (27 percent)
When Marc Walbridge strapped on his helmet for the 40th annual Kansas Shrine Bowl, he did so with two goals: throw a touchdown pass and snap the West's win streak. The four-year McLouth High starter didn't get many opportunities, but still accomplished both feats.
Walbridge, now a freshman at Fort Scott Community College, was 7-of-7 passing for 69 yards in a 22-19 win at Washburn University's Yager Stadium in Topeka. The win was the East's first in seven years.
After playing just two series in the first half — neither resulting in scores — took the field again on the East's final possession of the third quarter. He put the team in scoring position with a 30-yard pass to Austin Moses of Blue Valley Northwest. Two plays later, Walbridge hooked up with Lawrence Free State's Tye Hughes from 19 yards out, giving the East a 13-12 lead.
"We actually ran that play (before the game) in a scrimmage," Walbridge said after the game. "I knew (Hughes) was going to be wide open, so I didn't want to throw an incompletion. I knew it was right there from the get-go.
The former Bulldog added a two-point conversion on a pass to Blue Valley West's Conley Wilkins. Two lead changes later, the East broke a desperation play reminiscent of Cal-Stanford to secure the win.
Walbridge got to share the experience with MHS head coach Chris Stewart, who served as an East assistant. The duo had plenty of support, as the cheer squad and several teammates were on hand.
"They have a lot of commitment and they want to see us do well," Stewart said. "It was just a wonderful feeling to have that many people out there supporting us."
Stewart has been selected as the East head coach for the 2014 game, which will be played July 26 at Pittsburg State University.
Oct. 31: THS football wins district title, caps off best regular season in seven years (21 percent)
The Tonganoxie High football team led Basehor-Linwood by just a touchdown at halftime, but pulled away late for a 29-14 win at Beatty Field. With the victory, the Chieftains clinched their second Class 4A district title in as many years under Al Troyer and capped off an 8-1 regular season — their best mark since 2006.
BLHS scored first and trailed by just eight points at the break, but THS took control in the final two quarters, limiting the Bobcats to just 69 yards of offense.
"Momentum is a big, big thing," said Troyer, whose Chieftains went on to reach the regional round of the playoffs for the second year in a row. "This is a rivalry for these kids, and it was a hard-fought game on both sides."
James Grizzle had three of the team's five sacks in the win. Cole Holloway ran for 151 yards and three touchdowns and Tyler Ford connected with Jared Sommers for a score through the air.
Following the regular season finale, THS cruised to a 55-6 win against Bishop Ward in the bi-district round. It hung with Baldwin for three quarters in the regional round, but couldn't keep up late in a 28-10 loss.
Feb. 16: Chieftain wrestlers win regional title, place 10th at state (11 percent)
In the weeks preceding regional tournament action, members of the Tonganoxie High wrestling team wore T-shirts bearing the words "Finish in our house." When the final match concluded in the Chieftains' own gymnasium, they had made that phrase a reality.
THS went a combined 4-3 in the finals and survived a late charge by Bonner Springs for its first regional title in program history. It bested the tournament field with 183.5 points — 21 more than the second-place Braves.
"Every week, every practice, no matter what we're doing, we have to finish," coach Jeremy Goebel said. "The step they took with the regional championship, they finished."
Dalton Tavis (126 pounds), Clayton Himpel (132), Julius Coats (195) and Zeke Kissinger (285) won individual titles to lead the charge. Asher Huseman (152), Gus Dent (170), Luke Carey (182) and Thomas Miller (195) also finished in the top three of their respective weight classes, punching their ticket to state.
One week later at the state meet in Salina, the Chieftains placed 10th with 54.5 points a 42.5-point improvement from their 2012 performance. Coats and Himpel took fourth, while Miller finished sixth. The three individual medalists tied the program record for most in a season.
Oct. 25: McLouth football returns to playoffs, continues recent success (10 percent)
The McLouth High football team didn't need all nine games to decide its playoff fate, as the Bulldogs clinched their second straight Class 2-1A district title in week eight with a 52-8 drubbing of Valley Falls at Stan Braksick Sports Complex. The Bulldogs led by just eight after the first quarter, but reeled off 24 in the second to take control for good.
Jack Courtney threw for 164 yards and a touchdown in the win. Meanwhile, Drew Cerny ran for a game-high 108 yards and accounted for two touchdowns — one rushing and one receiving — and the Bulldog defense scored twice in the second half.
MHS wrapped up its regular season a week later with a 48-12 win at Leavenworth-Immaculata. The Bulldogs fell to Troy in their playoff opener, but their 7-3 record capped off a 23-7 stretch dating back to the start of the 2011 season. The Bulldogs will return to Class 3A in 2014.
May 24: Whitledge three-peats at state high jump champion (7 percent)
In her previous two trips to state, Tonganoxie's Jenny Whitledge left Wichita State with a Class 4A high jump title. The stakes reached an all-time high in her final trip to Cessna Stadium, but once again, she found herself on the top step of the podium.
Now a freshman on the WSU volleyball team, the 2013 THS grad became the Chieftains' first-ever three-time state champion, winning the event in a jump-off with Shania Vannoster of Independence.
After tying Vannoster at 5 feet, 6 inches, Whitledge eventually clinched the title with a jump of 5-5.
"At first I didn't even realize it," Whitledge said. "My first thought was to get off the mat in case I hit (the bar). When I looked up and saw it, I didn't really even know what to say or think."
Whitledge had a teammate by her side until the final jumps. Current senior Haley Griffin — a state runner-up in 2012 — placed third last year with a personal-best jump of 5-6. She finished third because she had more misses than Whitledge and Vannoster at that height.
Other candidates
• THS girls basketball earns first state bid since 2007 (6 percent)
• Chieftain boys soccer makes fifth straight regional title game (5 percent)
• THS softball has first winning season in six years (4 percent)
• Ryan Bristol becomes McLouth's first state cross country qualifier since 2004 (4 percent)
• Cole Holloway, Jessica Rubio win state powerlifting titles (3 percent)
• THS girls soccer returns to state quarterfinals (2 percent)