Leading the reading in Tonganoxie
THS

student leading programs to benefit

TES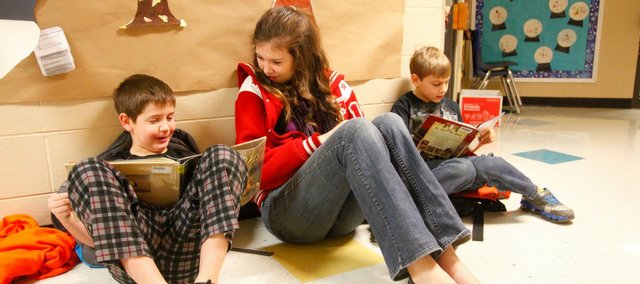 Celeste Bartels went on a holiday shopping spree of sorts.
The Tonganoxie High School junior used $500 through a Pete and Margaret Leighty Grant Fund she recently received to purchase books for Tonganoxie Elementary School students.
Bartels purchased roughly 375 books at a Scholastic Book Fairs bookstore in Lenexa. Tonganoxie Public Library donated about another 100 books.
Bartels is using the books to help promote reading at TES. She said she had been attending services at Tonganoxie United Methodist Church one Sunday when the Rev. Jeff Clinger talked about ways to pitch in throughout the community and get involved.
The THS student found a need at the elementary school.
After chatting with TES principal Tammie George about programs she could offer at the school, Bartels formed Early Birds, a youth reading program, and Business Buddies, which pairs local business members with students for midday interaction.
Early Birds is a reading program in which high school students read before school with TES students. Each school morning, THS students volunteer through Bartels' program to sit with students. Last Thursday, Early Bird volunteers sat with about 65 third-graders in the hallway.
Damon Paquette, a third-grader who was reading Thursday before school, said he was a fan of the program.
"I think it's pretty cool," Damon said.
Bartels said there are 20 to 25 THS girls who volunteer each week, with anywhere from three to seven sitting with students each day.
"This is just an attempt to make it (reading) more fun and gives them connections with older kids," Bartels said.
It also gives teenagers a chance to get involved and give back to their community, she said.
George said she appreciates Bartels' work and the efforts of other high school volunteers.
"The more kids read, the more fluent they become," George said. "Just like sports, the more you practice, the better you get."
She said students like to read to or with an adult. Sometimes a parent might not have the time to read. Grabbing a book can also compete with watching television or playing video games for a child's free time. The Early Birds provides some valuable reading time for students, George said.
Students will be able to take books she's purchased home for the summer.
"If they come back, great," she said about the books. "If they don't, that's another book in their hands."
Bartels said she has plenty of high school volunteers for Early Birds, but could use many more adult volunteers for Business Buddies.
Business Buddies participants meet with students two Wednesdays a month for lunch and then interact with students. It's about a 45-minute commitment for local adults. Currently, about 20 community members are signed up, but Bartels would like to have 37 total so that each volunteer can be paired up with every class at TES, which has students in grades K-4.
"I want a volunteer for each teacher, we're just not there yet," Bartels said. "That's my main goal to get that rolling."
She said she initially hoped to have several male participants as a way to provide a male role model for students who might need one, especially with so few male teachers in elementary schools.
However, male and female volunteers both make a difference, Bartels said. And she's seen excitement building among volunteers, students and teachers for the program.
Bartels also is a Girl Scout. She applied for the Leighty grant with the intention of the programs serving as her Gold Award project, the highest award a Girl Scout can receive. Another $100 from the Leighty Trust Fund will go toward gifts of appreciation for the high school and business community volunteers who have helped her make the two programs possible. Money from the trust fund is awarded to local individuals and organizations that use the funds for the betterment of the community.
Early Birds started in mid-September, while Business Buddies have met for just three sessions.
Bartels said volunteers have noted Business Buddies provides a nice reprieve from the workday.
And for the students, the volunteers give students a glimpse of people in the real world and an idea of what they can accomplish if they continue to learn, George said.