Tonganoxie debate team triumph, traffic signal issues among 2013 highlights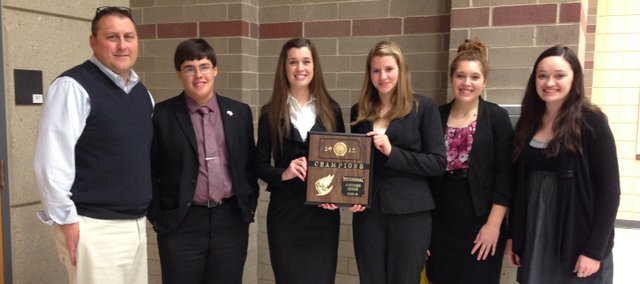 WEIGH IN
Were there other stories that should have been considered among the top stories of 2013? Join the conversation by commenting on this story at tonganoxiemirror.com or interacting with us on Facebook, facebook.com/TonganoxieMirror, or Twitter, twitter.com/tonganoxie.
As we embark on a new year, The Mirror's staff selected the top stories of 2013.
Here's a look at our top stories, in no particular order:
Best in class
Home truly was a special place for the Tonganoxie High School debate team.
THS hosted Class 4A and 3-2-1A state tournaments for the first time in January and found its own school to be friendly confines.
Tonganoxie finished just ahead of El Dorado for the four-speaker title, Tonganoxie's ninth overall. In two-speaker, THS has won six titles. The program's 2013 run marked its 20th consecutive state appearance. The 2014 tourney will be later this month in Fort Scott.
The sky's no limit
A Tonganoxie High School graduate thought that, for years, she distantly was related to her namesake, Amelia Earhart.
When she learned that she in fact was not related to the famous Kansan, it didn't hinder her aspirations to fly around the world.
Amelia Rose Earhart, a 2001 THS graduate and current television anchor and traffic reporter for an NBC affiliate in Denver, also is an aviator — just as her namesake was.
Earhart, also a seasoned pilot, has recreated Amelia Earhart's transcontinental flight from Oakland, Calif., to Miami.
She also looks to complete Earhart's planned flight around the world that ended when Amelia Earhart went missing in 1937 over the South Pacific.
In summer 2014, Earhart and co-pilot Patrick Carter plan to recreate and symbolically complete the flight. The 14-day, 14-stop trip is expected to cover 28,000 miles. Earhart, 30, would be the youngest woman to fly around the world in a single-engine aircraft.
To follow her journey, go to flywithamelia.org.
A signal for debate
Meeting after meeting, many residents and business owners rallied against a proposed traffic signal at U.S. Highway 24-40 and Laming Road. The improvement, much of which would have been funded through a Kansas Department of Transportation grant, aligned with KDOT's corridor plan.
Though some residents favored the improvement, which called for a frontage road that would have connected Laming Road to South Park Drive along the south side of U.S. 24-40, many were in opposition.
The improvement would ignore what residents said was a more dangerous intersection — U.S. 24-40 at Stone Creek/South Park Drive.
And, the configuration would have severely hindered business in the Stone Creek retail center, merchants said.
City Council members debated back and forth their options and seemed to be leaning toward the Laming Road project. But during a town hall meeting, council member Jim Truesdell moved to pursue a light at Stone Creek/South Park Drive.
KDOT reviewed the option further and agreed to fund a majority of the project, as it had pledged for the Laming Road improvements. The city will pay for roughly $100,000 of the $370,500 project.
The project is expected to be completed by September 2014.
City of second class
Tonganoxie's population moved above 5,000, giving it city of the second class status.
Cities with fewer than 5,000 are classified as cities of the third class, while communities with populations of 15,000 or more are cities of the first class.
City officials had been discussing how to proceed as a city of the second class for the several months, holding public forums to discuss the potential changes. After the many meetings, the council decided to retain the city's current governing practices and organization through charter ordinances that would exempt the city from changes ordinarily required of cities of the second class.
The city passed ordinances aimed at exempting the city from:
• Electing a city treasurer. Currently the city treasurer is determined by mayoral appointment. JoAnn Ferguson, who is employed at First State Bank and Trust, is the treasurer. But City Administrator Nathan McCommon said the appointment is procedural. It comes with no pay.
• Requiring a public vote to issue bonds longer than 10 years for repairing or resurfacing certain streets.
As a third-class city, towns have been required to have a public vote to issue bonds longer than 10 years.
• Changing its governing body from an at-large council to four equally populated wards.
The decision about whether to move to wards received the most discussion. Most council members favored the current system, citing current apathy. Of three council members who ran for election in April, none was contested.
The city can opt to move to a ward system in the future.
In July, Tonganoxie officials met with Gov. Sam Brownback for a ceremony officially recognizing Tonganoxie as a city of the second class.
"A lot of it was ceremonial because of the population growth," Peak said. "It was fun to go to the capitol and be involved in that."
Latest numbers have Tonganoxie's population at 5,100.
Happy trails to you
Chieftain Trail's second phase moved forward in 2013.
The trail, which is expected to be finished in the coming months, will more than double the current trail, which is 1.2 miles long. The extension is 1.3 miles and will connect the north side of the U.S. 24-40 to the south.