Morey reflects on first season as K-State football manager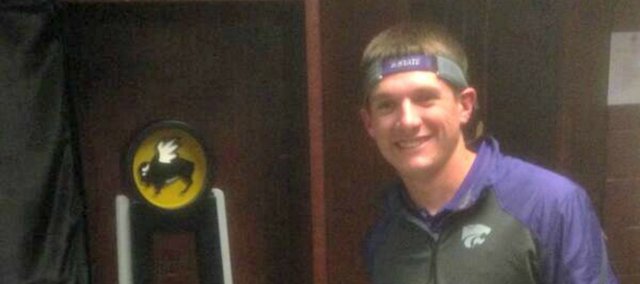 At Tonganoxie High, family is a core value among members of the football program. That same value exists at Kansas State University, where one member of the Chieftain family has found a new home.
Brett Morey, a 2013 THS graduate, recently completed his first season as an equipment manager at K-State. The Wildcats ended their 2013 campaign Saturday with a 31-14 win against Michigan in the Buffalo Wild Wings Bowl in Tempe, Ariz., capping off an 8-5 record.
"I've had a ton of great experiences and met a ton of great people," Morey said. It's been a pretty great ride this season. It's really great to see the starting product from the beginning of training camp in August, then see the guys win something they've been working toward — most of them for their whole lives. To help them be able to do that, it's something really special."
Morey, a three-year manager for the THS boys basketball team, served in the same position for the football team as a senior, which helped him earn a spot with coach Bill Snyder's Wildcats this fall. He assisted lead K-State manager Al Cerbe with several preseason camps over the summer, which gave him the chance to work with several members of the coaching staff.
When preseason camps were finished, Cerbe assigned Morey to work with special teams coordinator Sean Snyder for K-State's regular season.
A civil engineering major, Morey spent his first college semester learning to balance his football responsibilities with his workload as a student. On average, he said he committed 45-50 hours to football on home game weeks and 35-40 for away games.
"It's had its challenges, but I managed to get my class schedule balanced to where I'm taking my harder classes second semester," he said. "I wanted my schedule to be a little bit lighter with football first semester."
Morey said his game day duties were relatively simple this fall — keeping the special teams sideline area clear for punters, kickers and long snappers — but practice responsibilities were much greater and often less predictable.
"During practice, I'm running around all the time," he said. "Special teams is kind of thrown in the middle of practice, so we'll have maybe a minute or two to get all the stuff on the field and in place."
In addition to Saturday's bowl game, Morey traveled with the team to Lawrence for the annual Sunflower Showdown on Nov. 30. The Wildcats defeated rival Kansas, 31-10. He also helped with the first major uniform change under Bill Snyder, as K-State wore helmets with camouflage Powercat logos for its Fort Riley Day home game against Iowa State on Nov. 2.
Morey plans to return to the K-State staff again next fall and said he'll continue to do so as long as his schedule allows.