Wolf hopes to make waves in final wrestling season
THS

senior 5-1 in return from injury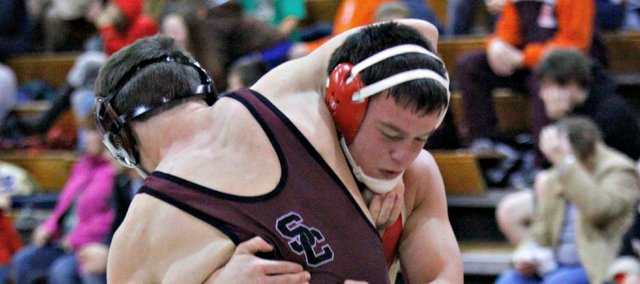 It had been a long time since Joe Wolf got his hand raised in the final round of a wrestling tournament. Two years and four days, to be exact.
After forfeiting nearly all of his junior senior to a knee injury suffered during a preseason football workout, Wolf finally got a chance on Dec. 21. He delivered in front of a home crowd, defeating Doniphan West's Garrett Dunlap in the 160-pound championship at the Randy Starcher Memorial Invitational. The title — Wolf's first since he won the 132-pound title at the same tournament in 2011 — marked the end of a comeback more than 12 months in the making.
After qualifying for state as a sophomore, Wolf's expectations were high entering the 2012-13 season. But, a torn anterior cruciate ligament during a 7-on-7 tournament brought his junior season to a halt before it even began. He tried to return to the mat midway through the season, but re-aggravated the injury in just his second match at the Louisburg Invitational, effectively ending his season for good.
Wolf wasn't able to add to Tonganoxie's win total in the season's final months, but according to coach Jeremy Goebel, his biggest contributions didn't show up in the scorebook.
"The best coping mechanism was for him to be around our team," Goebel said. "Even when Joe's not on the mat, he's a huge contributor. He's a leader by example, even when he wasn't on the mat with them. He brings energy and enthusiasm every day and, most of all, hard work. Him being able to showcase that is a great learning tool for young kids to witness firsthand."
Wolf remained on the sideline and helped THS win their first regional title in program history. One week later, they earned their highest-ever state finish, coming in 10th in Salina.
Neither feat has been forgotten by the Chieftain senior, who will begin his final stretch in just eight days.
"It gave me motivation, but I was more than happy they did all of that," Wolf said. "It just feels great to be back on the team, and I know we can do it again."
Wolf's return this season wasn't without a setback, as he forfeited all but one match at the Wamego Invitational after suffering a shoulder injury. He's tasted nothing but victory since, though, including two pins at a triangular with Ottawa and Santa Fe Trial and a 3-0 showing at the Starcher Invitational, giving him a five-match win streak.
"Joe knows his hard work is going to pay off," Goebel said. "For him fighting through those injuries, coming off that tournament title is huge. It lets him know that his body is ready. He's clicking on all cylinders."
Wolf will return to the mat when the Chieftains travel Jan. 9 to Spring Hill for a non-league dual — just another step in a turnaround he hopes will end on the state's biggest stage.
"I'm ready to get going again," he said. "I feel like everything happens for a reason, and it's just pushing me to get better."