THS

girls fall short at Mill Valley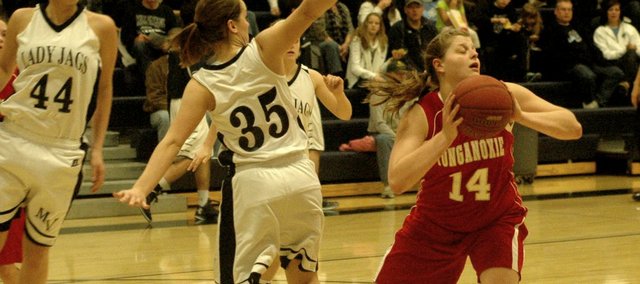 Girls KVL standings
League record, Overall record
Mill Valley, 8-0, 13-1
Bonner Springs, 8-1, 13-2
Tonganoxie, 6-2, 9-5
Bishop Ward, 3-5, 5-9
Basehor-Linwood, 3-5, 5-10
Piper, 3-6, 8-7
Lansing, 2-6, 2-12
Turner, 0-8, 1-13
The Tonganoxie High girls hung with the Kaw Valley League's top team for four quarters on Friday, but seemingly minor mistakes went a long way in preventing an upset on the road.
The Chieftains got within two possessions after trailing Mill Valley by 10 points, but couldn't overcome several costly turnovers in a 44-38 loss.
Down just two points at halftime, 18-16, the Chieftains (9-5, 6-2 KVL) stumbled out of the gate in the third quarter. The Jaguars (13-1, 8-0) took advantage of numerous THS mishaps and used an 11-3 run to go up by double digits midway through the period.
"If you take away five or six defensive breakdowns and five or six offensive possessions, it's a whole different game," coach Randy Kraft said. "For probably 26 or 27 minutes, we played really well."
THS regained its composure and slowly chipped away at the deficit in the fourth quarter. A three-pointer by Madee Walker made it 41-36 with 35 seconds left, but MVHS put the game away with late free throws.
Mill Valley, currently ranked No. 2 in the Class 5A poll, jumped out to a 14-8 lead at the end of the first quarter, but Kraft's squad got within one score less than four minutes into the second. The Chieftains had several chances to tie or take the lead just before halftime, but turned the ball over on three straight possessions.
Katelyn Waldeier and Jenny Whitledge led Tonganoxie with 11 points and seven rebounds each. Whitledge returned to the starting after missing Tuesday's game at Lansing with the flu and, according to Kraft, provided a boost on both ends of the floor.
"You've got somebody that can jump well and she's got long arms, so defensively, she's going to cause some problems," he said. "There was a stretch where they were all over her, trying to keep her from touching the ball, and I thought the kids stepped up and played well."
Mackenzie Conklin and Tanner Tripp led Mill Valley with 18 and 10 points, respectively.
The Chieftains will continue their road trip Tuesday at Basehor-Linwood and Friday at Piper. They defeated both teams in their first meetings at home earlier this season.
"Every game is important and those wins we got against both teams were a long time ago," Kraft said. "I felt like we kind of hit a slump, but this was a game where, even though we took a loss, we played really well. Hopefully we'll get back to playing our kind of ball and go from there."
Score by quarter
Tonganoxie 8  8  6  16 — 38
Mill Valley 14  4  14  12 — 44
Individual scoring
TONGANOXIE — Katelyn Waldeier 5-7 1-2 11, Jenny Whitledge 4-5 3-6 11, Madee Walker 3-3 1-2 8, Emily Soetaert 2-6 0-0 5, Kara Banks 1-2 0-0 3.
MILL VALLEY — Mackenzie Conklin 5-10 4-5 18, Tanner Tripp 3-12 3-4 10, McKenzie Koch 3-8 0-0 6, Stephanie Lichtenauer 2-8 1-2 5, Carly Eaton 1-3 1-2 3, Brooklyn Sloop 1-1 0-0 2.