Dual win sets stage for
KVL

wrestling tournament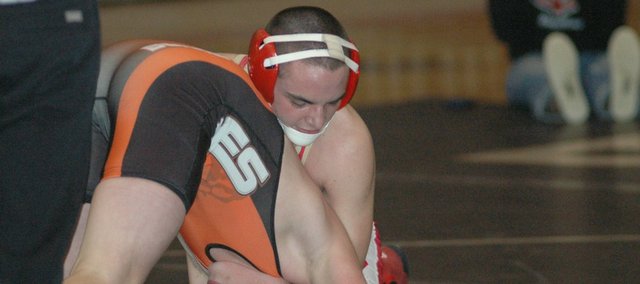 One week removed from a dual win against the No. 2 team in the state, the Tonganoxie High wrestling team is ready to defend its first league title in more than three decades.
The No. 8 Chieftains will travel Saturday to Lansing for the Kaw Valley League tournament, and they'll do so for the first time as the reigning champs. They won last year's tournament at Mill Valley, marking their first league title since they won the Pioneer League championship in 1981.
This year's tournament, scheduled to begin at 9 a.m., will feature 13 wrestlers ranked in their respective weight classes, including three who occupy top spots. Turner's P.J. Cheney (113) sits atop the Class 5A poll, while Bonner Springs' Jonathan Blackwell (152) and Aaron Puckett (160) rank first in Class 4A.
The Chieftains and Braves and 5A Mill Valley each have four wrestlers present in the rankings. Ranked THS wrestlers are Clayton Himpel (fifth at 132), Asher Huseman (sixth at 158), Julius Coats (third at 195) and Thomas Miller (third at 220).
Tonganoxie and No. 2 Bonner Springs are the only ranked teams in the tournament.
"Our backbone is just to get out here and compete in the practice room, both mentally and physically," coach Jeremy Goebel said. "That will translate over to competition. It's more mental training than physical right now. It's just training our minds for these last three weeks to be able to hit full stride."
THS got its final tune-up Thursday when it traveled to Bonner Springs for a dual between 4A powers. The Braves held a 27-11 lead after nine matches, but the Chieftains won their final five, including a pin by Zeke Kissinger (285) in the final match of the night, to secure a 34-27 win.
The match was the first in three weeks for Kissinger, who missed three tournaments while recovering from a shoulder injury. He pinned Bonner Springs' Les Wessel with eight seconds left in the first round.
"It was great to be back," Kissinger said. "I was just trying to make sure I didn't screw up, and I tried to exploit (Wessel's) screw-ups for my benefit."
Dalton Tavis (126) was the only regular starter to miss the dual, but Goebel said the Chieftains will be at full strength for the league meet.
In addition to league bragging rights, this weekend's tournament will have plenty of postseason significance. All five 4A teams are among the 14 schools Tonganoxie will welcome to town for regional action on Feb. 15-16.
"Wrestling is a confidence roller coaster," Goebel said. "You'll hit some bumps in the road, but right now, peaking at the right time is the important thing. We're sitting in good shape, and if we finish this tournament the way we're able to, it's going to enhance where we get positioned in that (regional) bracket."
Last year's KVL results
Tonganoxie — 193

Mill Valley — 148

Bonner Springs — 146.5

Lansing — 121

Turner — 72.5

Piper — 63

Basehor-Linwood — 54.5

Bishop Ward — 23