Missed chances cost Chieftain boys at
BLHS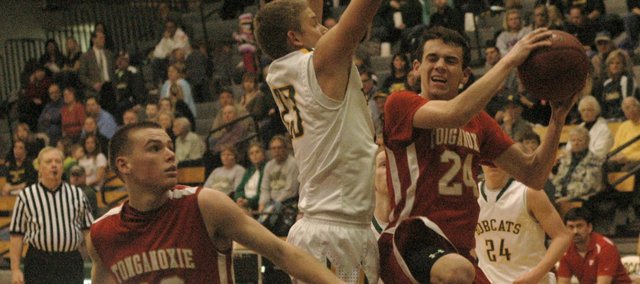 Basehor — When the Tonganoxie High boys squared off against Basehor-Linwood on Tuesday, they did more than enough on defense to win. Unfortunately, the solid defensive effort was countered by their lowest scoring output of the season.
The Chieftains shot just 28.6 percent from the floor in a 47-33 loss to their Kaw Valley League rival. The 33 points were 12 fewer than the team has scored in any other game this season.
"This might be the best game we've defended all year long, but the problem was we didn't make enough shots to take advantage of the fact that we guarded pretty well," coach Shawn Phillips said. "If we can guard like that all the time, hopefully we'll shoot the ball better and be in a better position to win."
THS (7-8, 3-6 KVL) trailed by 11 points after three quarters, but scored five straight to get within two possessions with 6:48 remaining. The Chieftains forced turnovers on the Bobcats' next three possessions, but missed shots at or near the rim kept them from getting any closer.
BLHS (9-6, 7-2) took advantage of the offensive lull, closing out the game on a 12-4 run to preserve its third straight win.
"We probably left at least 12 points on the floor just from two-foot shots," Phillips said. "Against good teams and in close games, you've got to be able to convert those. It doesn't matter if you get fouled or not. They did get some of that and we missed ours."
The Chieftains fell behind by six points after one quarter, 12-6, but knotted the score with back-to-back three-pointers by Blair Mathisen and Eric Tate midway through the second. Both teams struggled to gain momentum for the rest of the half, and the Bobcats took a 19-16 lead into the locker room at the break.
Basehor-Linwood's Chase Younger led all scorers with 19 points, including four three-pointers. Jack Dale paced Tonganoxie with 10 points.
Phillips' squad will close out its five-game road trip Friday against a Piper squad it lost to by 17 points on Dec. 11.
"Hopefully, we learned that we can guard a little bit and can translate that over against other teams," Phillips said. "We've just got to keep grinding. That's all there is to it."
Score by quarter
Tonganoxie 6 10 8 9 — 33
Basehor-Linwood 12 7 16 12 — 47
Individual scoring
TONGANOXIE — Jack Dale 4-11 0-0 10, John Lean 2-7 2-2 6, Eric Tate 2-8 0-0 5, James Grizzle 2-4 0-0 4, Blair Mathisen 1-2 1-2 4, Tyler Ford 1-7 0-0 2, Jared Sommers 0-1 2-4 2.
BASEHOR-LINWOOD — Chase Younger 7-12 1-2 19, J.P. Downing 4-8 1-4 10, Jahron McPherson 2-6 1-2 5, Ben Johnson 2-3 0-2 4, Tim Sanders 2-5 0-0 4, Zach McNabb 1-5 0-0 3, Matt Ogilvie 1-2 0-0 2.