Whitledge hits 1,000-point mark in win vs. Bobcats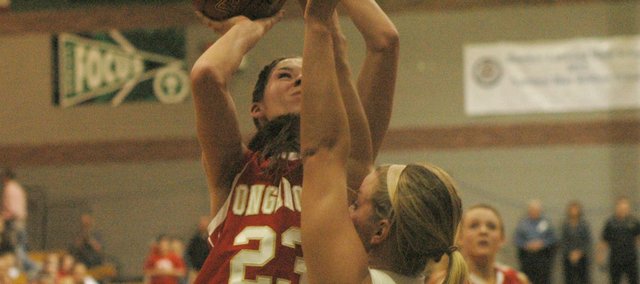 Basehor — Reaching 1,000 career points may not have been atop Jenny Whitledge's priority list, but nonetheless, the Tonganoxie High senior has officially joined a short list of Chieftain players to accomplish that feat.
Whitledge became just the third girls basketball player in school history to reach the 1,000-point milestone in a 52-46 win Tuesday at Kaw Valley League rival Basehor-Linwood. She entered the game with 990 points in three-plus season and scored her 10th of the game with 2:11 left until halftime.
"Honestly, that wasn't the first thing on my mind, but it definitely feels really nice to be able to hit that milestone," Whitledge said.
Following her game-high 18-point performance, Whitledge currently sits at 1,008 points. Ali Pistora set the current school record of 1,196 during the 2006-07 season. THS has at least six games remaining on its schedule.
The Chieftains (10-5, 7-2 KVL) led by just four points at halftime, but gradually stretched their lead to nine by the end of the third quarter, 37-28. The Bobcats (5-11, 3-6) got back within four with 1:35 remaining, but THS extinguished the comeback attempt with late free throws.
Looking to avenge a 49-39 loss on Dec. 14, Basehor-Linwood used several late surges to stay within two possessions, but multiple Chieftains hit run-killing shots to keep the lead intact in the final period.
"We've made a lot of improvement in the last few games, particularly after we went on that little losing streak," coach Randy Kraft said. "We've done a lot better job of executing when it matters. They're really buying in and understand what needs to be done at different times in the game."
After jumping out to an 11-5 lead after opening period, THS went in front by 10 points midway through the second quarter. However, the Bobcats answered with a 10-4 run to get within four at halftime, 21-17.
In addition to her game-high 18 points, Whitledge pulled down 15 rebounds for a double-double. She is now just 16 boards shy of the school's career record of 638, also owned by Pistora. Hannah Kemp and Katelyn Waldeier joined Whitledge in double figures with 10 points each. Jamie Johnson and Amber Garver paced the Bobcats with 13 points apiece.
Kraft's squad will wrap up its five-game road trip Friday at Piper. The Chieftains defeated the Pirates by a 41-37 margin on Dec. 11.
"It's going to be no different than this game was right here," Kraft said. "It's going to go right down to the end. They're very physical and they defend well. We've got to battle."
Score by quarter
Tonganoxie 11 10 16 15 — 52
Basehor-Linwood 7 10 11 18 — 46
Individual scoring
TONGANOXIE — Jenny Whitledge 6-11 6-8 18, Hannah Kemp 4-6 0-3 10, Katelyn Waldeier 4-8 2-7 10, Madee Walker 3-6 3-5 9, Emily Soetaert 1-10 3-4 5.
BASEHOR-LINWOOD — Jamie Johnson 5-11 0-1 13, Amber Garver 5-12 2-4 13, Marriah Clayton 4-8 0-1 8, Alex Gorman 2-6 0-0 6, Madison McDowell 1-4 0-0 3, Victoria Smith 1-3 0-0 2, Kara Stephens 0-0 1-2 1.