McLouth seniors sign football LOIs
Cop inks with Garden City, Walbridge with Fort Scott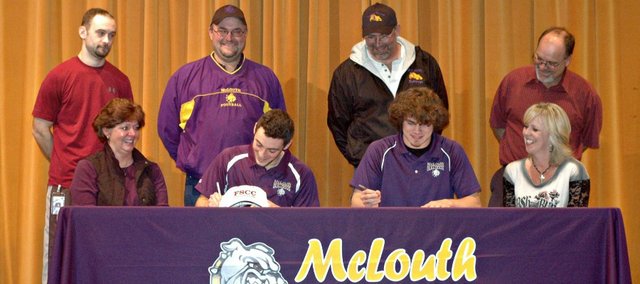 McLouth — Over the last four years, Dakota Cop and Marc Walbridge were instrumental in helping McLouth High return to football prominence. The Bulldog seniors guaranteed Thursday that they'll get to represent the program they helped rebuild beyond the high school ranks.
Cop and Walbridge signed national letters of intent to play at Garden City Community College and Fort Scott Community College, respectively. The signings come after a year in which they led the Bulldogs to an 8-1 regular season record and their first district title since 2005.
"(The signings) say a lot about the coaches we have on staff and also the kids and how much they've committed to working toward that goal," coach Chris Stewart said. "When they come in as freshmen, they want to make it to the next level. It all takes a lot of hard work, so it's good to see this happening for them.
"All the kids are crucial, but these two seniors have done a lot. They're at the top of the class as far as their performance and their work ethic."
When Cop and Walbridge arrived at MHS as freshmen, wins were hard to come by. The Bulldogs won just four games in their first two seasons, but the tide began to turn a year later. MHS went 7-2 and just missed a playoff bid in 2011, then lost just one regular season game in 2012.
The seven-year playoff drought came to an end when McLouth clinched a Class 2-1A district title on Oct. 19 at Valley Falls.
"We stuck together. We went through every loss and kept our heads up," Cop said. "We had to push through it. Our junior year, we had to make that our season for the seniors and juniors. That year was a shock to us, but it was awesome. We brought that into our senior year, and we wanted to get to that state playoff game."
Cop accounted for 15 touchdowns — 10 rushing and five receiving — in his final high school season. He joins a GCCC squad that went 6-4 last season, including an appearance in the NJCAA playoffs. Additionally, he'll join a pair of former teammates in 2012 Bulldog grads Alex Courtney and Alan Kramer.
"It was a big decision," he said. "My last visit was to Garden City, and the coaches just wowed me. My teammates were the ones that really got me recruited. It really helps me out."
Success hasn't just been limited to the gridiron for Cop. He also qualified for state in the triple jump last spring and was recently named to the school's purple honor roll. He and Walbridge are both currently members of the Bulldog basketball team.
Walbridge, a four-year starter at quarterback, threw for 1,662 yards and 21 touchdowns as a senior. FSCC, which begin recruiting Walbridge after his junior season, went 4-5 in 2012.
"I made my decision about two weeks ago, but it's nice to finally get it set in stone," Walbridge said. "(Fort Scott) contacted me last April, then they came to the school three times. They're really hard-nosed and like to get after it. That's what we kind of did here at McLouth in the last four years, so I like that a lot."
Like Cop, Walbridge has excelled away from the football field as well. He took seventh in the 1,600-meter run at last year's state track and field meet and made the principal's honor roll.
Walbridge will have one more opportunity to share the field with his high school coach when both participate in the 40th annual Kansas Shrine Bowl, scheduled for July 27 in Topeka.
"It's been forever since McLouth had a player, so it's really cool, especially with our coach being an assistant coach," Walbridge said. "I get to put the helmet on one more time and be on the field with him again."
Cop and Walbridge will square off on the gridiron when Fort Scott plays host to Garden City on Sept. 28.