Chieftain girls sputter late in loss at Piper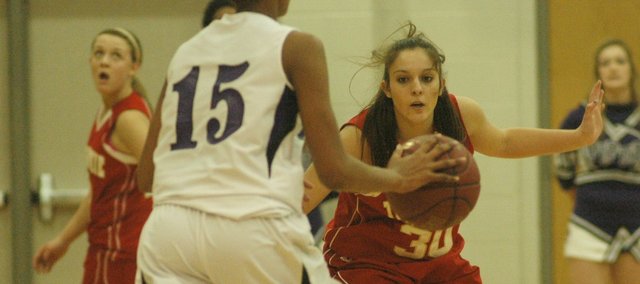 Kansas City, Kan. — Missed opportunities in the paint and at the free throw line proved costly as the Tonganoxie High girls watched a second-half disappear in a 55-51 loss Friday at Piper.
The Chieftains (10-6, 7-3 Kaw Valley League) led by four points midway through the third quarter, but the Pirates (10-7, 5-6) answered with a 13-2 run to take a lead they would never relinquish. PHS extended its advantage to as many as seven points in the game's final minutes, as the Chieftains struggled to find answers on offense.
After struggling with Piper's pressure defense for most of the game, THS got open looks down the stretch, but came up empty on several layup attempts in the fourth quarter. The team couldn't cash in from the free throw line either, going just 6-of-15 in the game.
"It will cost you the game when you can't convert around the rim," coach Randy Kraft said. "We didn't do a good job on the boards; we turned the ball over too many times. We've got to learn how to play a game when it's called very physical. We've got to adjust to that and do a better job."
Emily Soetaert made it a four-point game with a three-pointer in the final seconds, but that's as close as they got as the Pirates avenged a four-point loss in the teams' first meeting on Dec. 11.
Kraft's squad seemingly took control early when it jumped out to a 9-2 lead, but Piper turned several Chieftain turnovers into points to stay within striking distance. It looked as though THS would take a two-possession lead into the locker room at halftime, but the Pirates closed out the first half with four quick points to make it a two-point game at the break, 24-22.
Jenny Whitledge recorded her second straight double-double with 16 points and 14 rebounds. She is now just two boards short of the school's career record of 638, set by Ali Pistora during the 2006-07 season. Piper's Jessica Wayne led all scorers with 19 points.
THS, which is just 2-5 in its last seven games, will return home for the first time since Jan. 19 when it plays host to Turner on Tuesday.
"Our attitude has been good," Kraft said. "They're looking at the big picture and they know every win is important. Tonight, the biggest thing was just how physical it was. They all know that we could have and should have won the game. We just need to understand how to play more physical when it's a game that requires you to do that."
Score by quarter
Tonganoxie 9 15 14 13 — 51
Piper 4 18 19 14 — 55
Individual scoring
TONGANOXIE — Jenny Whitledge 6-9 4-5 16, Emily Soetaert 4-12 0-0 9, Kara Banks 4-6 0-0 8, Madee Walker 3-8 0-0 7, Katelyn Waldeier 3-11 1-8 7, Hannah Kemp 1-10 1-2 4.
PIPER — Jessica Wayne 9-17 0-1 18, Tori Webb 6-10 2-4 15, Sydney Mansaw 3-7 1-2 7, Carley Zwart 1-5 3-4 6, Megan Woolley 1-5 1-1 3, Jordan Wagner 1-1 0-0 2, Connor Shriver 1-2 0-0 2, Haley White 1-4 0-0 2.