Piper sinks
THS

boys with buzzer-beater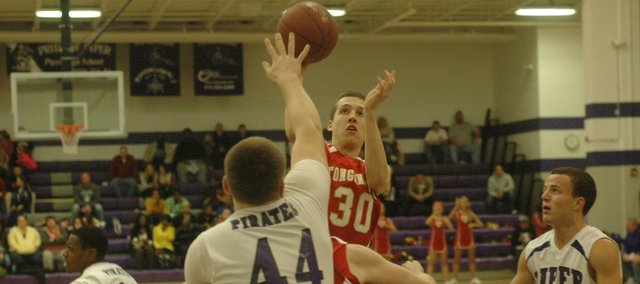 Kansas City, Kan. — Numerous times this season, the Tonganoxie High boys have found ways to win games in the final seconds. Friday's trip to Piper provided yet another opportunity, but this time, the Chieftains couldn't come out on top.
Piper's Dominique Jennings hit a layup at the buzzer to hand the Chieftains a 68-66 loss — their sixth defeat in seven games.
"Our schedule has been rough," coach Shawn Phillips said. "We've played all the top teams in the league in a row. You've got to compete at a high level when you're playing those teams. We're so close to being able to knock off those teams."
It looked as though THS (7-9, 3-7 Kaw Valley League) would be run out of the gym when the Pirates (13-4, 8-4) jumped out to a 50-36 lead late in the third quarter. However, Phillips' squad scored six straight to get within double digits and continued to chip away at the deficit through the final period.
The Chieftains erased the lead in the final minutes and took a 62-61 lea on a layup by Eric Tate with 1:52 remaining. A back-and-forth battle ensued, and the teams found themselves in a 66-66 tie in the final seconds. A Piper turnover gave THS a chance to regain the lead on its final possession, but Jack Dale was called for traveling with 7.1 seconds left and Jennings hit the game-winner at the other end as time expired.
"We've just got to execute and get a few better shots," Phillips said. "To battle back, I think that shows they've got fight in them. This is the first time there's been a game down to the wire that we haven't come out on top. You're not going to get all of them, put our kids put a lot of energy into coming back. It's tough to swallow."
THS needed a surge just before halftime to keep the game from turning into a blowout in the first half. The Pirates took a 33-20 lead with 2:24 left until the break, but the Chieftains closed out the period on a 12-5 run to get back within six points.
Dale led Tonganoxie and tied a career high with 25 points. Eric McPherson and Blair Mathisen also reached double figures with 13 and 10 points, respectively. Jennings led four Piper players in double figures with 19 points.
After playing their last five games on the road, the Chieftains will return to the friendly confines of their own gym on Tuesday for a meeting with Turner. They defeated the Golden Bears in overtime on Jan. 11.
"It's been a while since we played at home, so hopefully seeing our own gym will make us play a little bit better," Phillips said.
Score by quarter
Tonganoxie 15 17 14 20 — 66
Piper 21 17 16 14 — 68
Individual scoring
TONGANOXIE — Jack Dale 8-11 6-7 25, Eric McPherson 6-8 1-2 13, Blair Mathisen 4-5 2-2 10, John Lean 2-7 3-4 7, James Grizzle 1-1 4-6 6, Eric Tate 1-6 1-2 3, Ben Johnson 1-4 0-0 2.
PIPER — Dominique Jennings 6-8 7-11 19, Tyrone Jennings 4-10 2-4 13, Luke Long 3-8 4-4 12, Matt McDonald 3-8 4-7 10, C.J. Harper 2-4 0-0 4, Vince Eskina 1-5 2-3 4, Calvin Johnson 1-9 2-2 4, Colton Beebe 1-1 0-0 2.