Tonganoxie wrestling defends
KVL

title
Five Chieftains win individual titles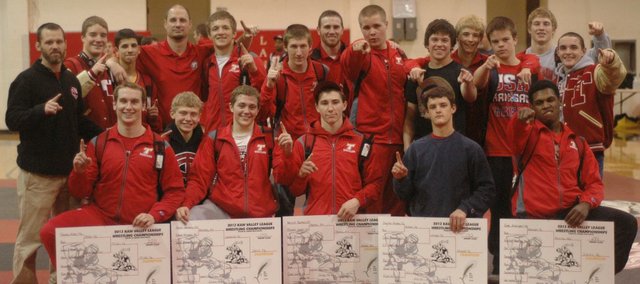 Lansing — Near the end of the 2011-12 wrestling season, Tonganoxie High ended a 21-year league title drought with its first ever Kaw Valley League championship. Saturday at Lansing, the team made sure the wait for its second crown wouldn't be so long.
The Chieftains trailed Class 5A Mill Valley more than halfway through the final and consolation final round, but won their final five matches to defend their title. As a team, THS went a combined 21-12 and racked up 145 points.
"Feeding off each other really helps," said senior Gus Dent, one of five Chieftains to win individual titles. "It's kind of like a domino effect. Once one person wins, it just makes you want to wrestle the best you can."
After the completion of the 160-pound weight class, the Jaguars held a half-point lead in the team standings, but Dent ignited a late surge with a win in the 170-pound title match. THS went undefeated the rest of the way with finals wins by fellow seniors Julius Coats (195) and Thomas Miller (190) and consolation final wins by Luke Carey (182) and Zeke Kissinger (220).
Clayton Himpel (132) and Dylan Yates (138) won the team's other two individual titles, while Dalton Tavis (126) also won in the consolation finals. In total, Tonganoxie went a combined 8-2 in first- and third- place matches, compared to a 6-4 mark by Mill Valley, which finished with 139.5 points.
"We've been preaching all year long to finish," coach Jeremy Goebel said. "If your teammate goes out there and performs, it's going to start the train and follow the track all the way to the end. From Dalton all the way down, we finished. That's what it takes."
In what Goebel called a first in his tenure at THS, each member of the team's senior class will graduate as a league champ. Coats and Miller each brought home their second career KVL titles, while Dent won his first.
The Chieftains will open postseason competition Friday in their own gymnasium when they welcome 15 Class 4A schools to town for a two-day regional tournament. The top-four finishers in each weight class will advance to the state tournament, scheduled for Feb. 21-22 in Salina.
"(Winning league) was a huge stepping stone going into this week," Goebel said. "They know what they're capable of. Each week, we're putting the pieces together. We've just got to keep fresh and continue to do what we're doing, and good things are going to happen."
Regional pairings will be announced later this week by the Kansas State High School Activities Association. Information will be posted at tonganoxiemirror.com when it becomes available.
Overall team results
Tonganoxie, 145; 2. Mill Valley, 139.5; 3. Bonner Springs, 122; 4. Basehor-Linwood, 109.5; 5. Lansing, 73.5; 6. Turner, 73; 7. Piper, 38; 8. Bishop Ward, 27.
THS individual results
106 — Open
113 — Ethan Phillips 0-2 (N/A)
120 — Garrett Martin 2-2 (Fourth)
126 — Dalton Tavis 3-1 (Third)
132 — Clayton Himpel 2-0 (First)
138 — Dylan Yates 2-0 (First)
145 — Steven Stockman 0-2 (N/A)
152 — Asher Huseman 1-1 (Second)
160 — Alex Kroll 0-2 (N/A)
170 — Gus Dent 2-0 (First)
182 — Luke Carey 3-1 (Third)
195 — Julius Coats 2-0 (First)
220 — Thomas Miller 2-0 (First)
285 — Zeke Kissinger 2-1 (Third)