24-40 traffic improvement options laid out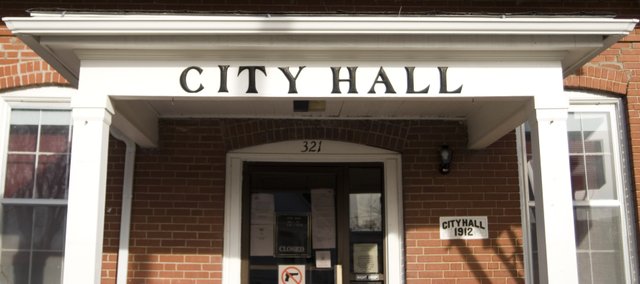 The future of traffic improvements on U.S. Highway 24-40 on the east side of Tonganoxie continued Monday with another night of lengthy public discussion, this time with an eye on five different options for the potential addition of one or more traffic signals.
City Administrator Nathan McCommon presented the options to the Tonganoxie City Council at Monday's meeting. The options are:
• Take no action and leave the highway as it is. If this option is exercised, the Kansas Department of Transportation repaint the highway and slightly reconfigure the Stone Creek intersection with left-out acceleration lanes.
• Accept KDOT's proposed improvements, which include the installation of a traffic signal at the Laming Road intersection, the addition of a frontage road south of 24-40 from Laming to South Park Drive and no-left-turn-outs from side streets at Stone Creek and South Park. If this option is exercised, KDOT would cover all construction costs and 90 percent of design costs.
• Accept KDOT's proposed improvements, but to a lesser extent on any of the three parts.
• Install a traffic signal at Stone Creek/South Park instead of Laming Road. If this option is exercised, the city would have to revise its current corridor plan, which would require KDOT's approval. It is likely the city would have to find funding for this option from elsewhere.
• Install traffic signals at both intersections. A frontage road would not be necessary if this option is exercised, but under the current corridor plan, funds are only available for installation of a signal at Laming Road.
In the last meeting on Jan. 28, members of the public — most who live or own businesses near the area in question — raised several concerns, including difficulty to turn left onto U.S. 24-40 and the negative impact no-left-turn-outs could have on businesses in the area. New concerns were raised at this week's meeting, including the long-term impact of choosing a potential location for a traffic signal.
"We expect substantial growth in town in the next five to seven years," said Greg Orscheln, a Tonganoxie Chamber of Commerce member who rents space at the Biomedical Devices building west of Laming Road. "We have an industrial park north of Highway 24 that hasn't developed. We need to fill that up. We need to handle traffic safely, but still provide an attractive environment for people living here."
Potential loss of income for existing businesses continued to be a hot topic for owners and council members alike, and several expressed concern with installing a signal at Laming Road.
"I don't want to have to experiment with someone with a huge investment in a business," council member Bill Peak said. "I understand safety, but I don't understand putting a crimp on a business. I don't think we want to get caught in the trap of looking solely at funding sources."
Council member Chris Donnelly, also the executive vice president at First State Bank and Trust at Laming Road and U.S. 24-40, said he plans to abstain from any vote on the subject because of what he called a conflict of interest. Speaking as a member of the public Monday, Donnelly supported the idea of installing a light at Stone Creek.
Other suggestions by the public included installing and synchronizing lights at both intersections and lowering the highway speed limit to 40 miles per hour throughout the city limits.
"It's going to be hard to make everybody happy," KDOT metro engineer Jim Pickett said.
In other business, the council:
• Gave a progress update involving sales of properties of the white house at the southeast corner of Third and Main streets and the gray house at the southwest corner of the same intersection. The white house was recently demolished, and the gray house is currently listed in the Lawrence Journal-World with a March 1 deadline. Council members said there are no immediate plans to demolish the gray house if it isn't sold before the deadline. The buyer will be responsible for moving the house from the property.
• Approved, 5-0, a request to purchase a software patch linking police and court systems.
• Approved, 5-0, a request to reclassify a police officer position to police sergeant for internal promotion.
• Proposed dates and times for open forums to discuss Tonganoxie's move toward city of the second class status. Kansas statutes require a city be classified as a city of a second class when it reaches a population of 5,000. Tonganoxie now sits at 5,065. Proposed meeting times are 7 p.m. on March 4 and April 1 at Tonganoxie High School.
• Approved, 5-0, a planning commission application from former councilmember Steve Gumm.
• Approved, 5-0, minutes from the Jan. 28 meeting.
• Approved, 5-0, payment of bills for pay ordinance A-1700.
• Approved, 5-0, payment of $12,500 to Moody's Investor Services for fees associated with bond rating, $7,360 to state treasurer for registration fees for new bonds, $139,893.03 to Tonganoxie Library Board for payment of property taxes, $22,779.75 to Honeycreek Disposal for solid waste disposal, $30,506 to Midwest Public Risk for February health benefits, $3,128.44 to Olathe Winwater for water treatment supplies, $22,954.17 to Springsted Incorporated for bond issuance service fees and $8,246.63 to Westar Energy for monthly electric bills and street lights.