Whitledge's record-setting night powers Chieftain girls by Turner
THS

senior just misses triple-double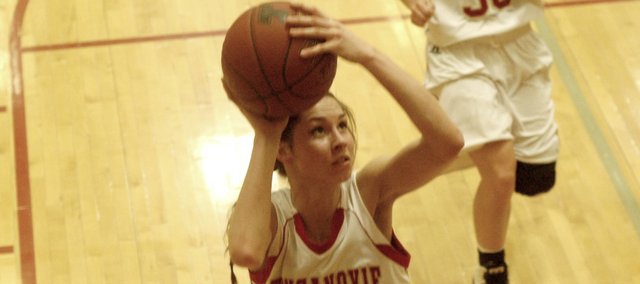 Over the course of her career, Jenny Whitledge has had some dominant nights on the basketball court. Tuesday night against Turner, though, the Tonganoxie High senior took "dominant" to a new level.
Whitledge broke one career record and set or tied two single-game marks in the Chieftains' 60-26 rout of the Golden Bears. She netted a career-high 34 points, pulled down 18 rebounds and recorded nine steals, leaving her just shy of a rare triple-double.
The 34 points break the school record of 31 scored by Sam Metcalf in 1984-85 and again by Kim Dehoff in 1987-88. The nine steals — also a career-high — tie the record reached twice by 2007 grad Ali Pistora. Additionally, with her second rebound of the game, Whitledge became the school's all-time leader, surpassing Pistora's career mark of 638.
"Honestly, my first thought is that I can't do it without my team," said Whitledge, who also joined the school's 1,000-point club last week. "They've really helped me this entire time. I wouldn't be anything if they weren't helping me."
Whitledge, who hit her first 10 shots and went 14-of-19 from the floor, scored 10 points in the first quarter to help the Chieftains (11-6, 8-3 Kaw Valley League) open a 17-8 lead. The early lead could have been bigger, but several first-quarter turnovers led to breakaway layups by the Golden Bears (1-16, 0-11) at the other end of the floor.
Tonganoxie eventually settled down and extended its advantage to 14 at halftime, 30-16.
"We didn't start off playing really well, particularly in the first six minutes or so," coach Randy Kraft said. "That was a little hard to sit through, but once they quit turning the ball over and started to execute, I hope they gained some confidence from it."
Whitledge continued to get open looks under the basket in the second half, allowing the Chieftains to gradually pull away. A running clock went into effect when the margin reached 30 points in the game's final minutes.
"Our guards were pushing it down the floor. They were attacking, so that just got the post open," Whitledge said. "The guards were doing a great job on the offensive end with the ball."
Katelyn Waldeier and Emily Soetaert added eight points for the Chieftains, who reached 60 points for just the fourth time this season. McKenna Mortell led Turner with 14 points, 12 of which came in the first half.
Tonganoxie's next game will have both league and sub-state implications, as the Chieftains will play host to Bishop Ward on Thursday. They picked up a 56-46 win against the Cyclones on Dec. 18.
"Right now, we've got a three-game season, then after that is a new season called sub-state," Kraft said. "We're going to take one game at a time, and we've got to continue to build on this if we want to have any chance at sub-state."
Score by quarter
Turner 8 8 6 4 — 26
Tonganoxie 17 13 13 17 — 60
Individual scoring
TURNER — McKenna Mortell 6-17 2-6 14, Olivia Silvey 2-11 2-4 6, Kelly McKay 1-3 0-0 2, Brittany Durham 1-7 0-0 2, Peyton Peaches 0-1 2-4 2.
TONGANOXIE — Jenny Whitledge 14-19 6-9 34, Katelyn Waldeier 4-7 0-0 8, Emily Soetaert 3-9 0-0 8, Hannah Kemp 3-6 0-0 6, Sarah Ahart 1-1 0-0 2, Kara Banks 1-6 0-0 2.