Chieftain boys beat Cyclones to end losing streak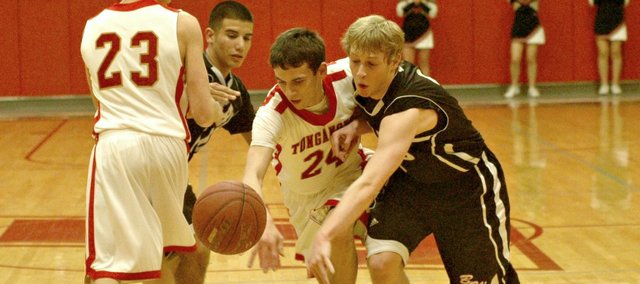 When the Tonganoxie High boys left the floor Thursday against Bishop Ward, their five-game losing streak was finally a thing of the past.
The Chieftains watched an 11-point lead shrink to four in the final period, but held on for a 49-44 victory — their first win since Jan. 25.
"We haven't played great lately, but it feels great to get back in the win column," coach Shawn Phillips said.
THS (8-10, 4-8 Kaw Valley League) was seemingly on its way to a comfortable win after taking a 46-35 lead early in the fourth quarter. The Cyclones (4-14, 1-11) made things interesting down the stretch, though, as they used a 7-0 run to get within four with 3:08 remaining.
James Grizzle, who led the Chieftains with 17 points, killed the BWHS drive on the next possession, and THS preserved the win at the free throw line.
A power struggle led to a 19-19 tie early in the second quarter, but Phillips' squad closed out the period on a 12-2 run to take a 31-21 lead at halftime.
Grizzle, who scored 12 of his points before the break, made the Cyclones pay in the paint, going 7-for-7 from the floor. Fellow forward Eric McPherson added six points from under the basket.
"We thought we matched up with them pretty well inside, so we tried to stress the two-foot shots," Phillips said. "You're going to shoot a higher percentage when you're closer to the basket."
Evan Brull and Steven Gramblin led Bishop Ward with 12 and 11 points, respectively.
THS will play its final regular season home game on Tuesday when it welcomes Mill Valley to town for senior night. The Jaguars are currently tied with Lansing for first place in the league standings.
"We know we're going to see a good team," Phillips said. "Hopefully we'll come out with a little added fire on senior night. You always want to send your seniors out with a win.
Score by quarter
Bishop Ward 15 6 12 11 — 44
Tonganoxie 15 16 11 7 — 49
Individual scoring
BISHOP WARD — Evan Brull 5-14 0-0 12, Steven Gramblin 4-6 2-3 11, Cole Henley 3-14 2-5 8, Andrew Kump 2-6 3-4 7, Manny Talavera 1-1 0-0 2, Long Ho 1-4 0-0 2, Xavier Tucker 1-6 0-0 2.
TONGANOXIE — James Grizzle 7-7 3-4 17, Jack Dale 3-7 1-2 9, John Lean 3-4 1-3 8, Eric McPherson 3-7 0-0 6, Ben Johnson 2-3 1-2 5, Eric Tate 1-4 1-2 3, Blair Mathisen 0-1 1-2 1.