THS

girls stay hot in rout of Bishop Ward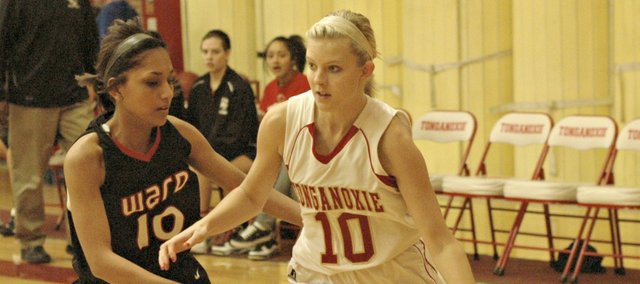 Another day, another big win for the Tonganoxie High girls.
The Chieftains scored their second blowout victory in three days with a 59-27 drubbing of Kaw Valley League opponent Bishop Ward on Thursday.
Fresh off a 60-26 win against Turner, THS (12-6, 9-3 KVL) jumped out to a 16-6 lead after one quarter. The team kept its foot on the gas and extended its lead to 17 at halftime, 32-15.
Any thoughts of a comeback by the Cyclones (5-13, 3-9) were quickly erased when the Chieftains opened the third quarter on a 10-1 run. The lead continued to grow, and a running clock went into effect when it hit 30 points early in the fourth quarter.
Bishop Ward struggled to find any offensive momentum all night, shooting just 22.9 percent from the floor.
"I was happy with our defense," coach Randy Kraft said. "We didn't give them any easy looks. They had to take difficult shots. Overall, our defensive effort was pretty good."
Defensively, the Chieftains have held their opponent to less than 30 points in each of the last two games. They accomplished that feat just twice in their first 16 games.
Jenny Whitledge led THS with 20 points and 16 rebounds for her fourth consecutive double-double. Katelyn Waldeier just missed a double-double of her own with 10 points and nine rebounds. Breana McMillon led the Cyclones with 13 points.
The Chieftains will wrap up their three-game homestand Tuesday against Mill Valley on senior night. They pushed the Jaguars to the limit in a 44-38 loss on Feb. 1.
"We have to continue to do what we did today," Kraft said. "They've got good outside shooters, so we can't let them get started. If we do that and take care of the ball, we can be pretty good."
Score by quarter
Bishop Ward 6 9 8 4 — 27
Tonganoxie 16 16 15 12 — 59
Individual scoring
BISHOP WARD — Breana McMillon 5-19 1-4 13, Frankie Oropeza 2-5 3-4 7, Taylor Williams 2-12 0-0 4, Samantha Morrissey 1-6 0-0 2, Caitlin Reed 1-6 1-2 1.
TONGANOXIE — Jenny Whitledge 7-15 6-8 20, Katelyn Waldeier 3-8 4-8 10, Hannah Kemp 3-7 0-0 8, Emily Soetaert 3-8 0-2 8, Madee Walker 3-8 1-2 7, Sarah Ahart 1-1 3-4 5, Tressa Walker 0-0 1-2 1.