Regional wrestling tourney begins today in Tonganoxie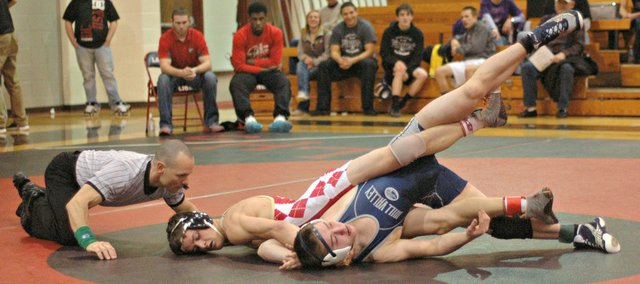 TOURNAMENT INFO
Teams in field
Atchison, Baldwin, Basehor-Linwood, Bonner Springs, Santa Fe Trail, De Soto, Eudora, Bishop Ward, Piper, Sumner, Jeff West, Ottawa, Perry-Lecompton, Spring Hill, Tonganoxie
Ranked teams
No. 1 Bonner Springs
No. 9 Tonganoxie
Ranked wrestlers
106, No. 2 Jo. Seaton (BON)+
106, No. 6 Schreiner (JW)
113, No. 3 Ju. Seaton (BON)*
120, No. 5 Boose (SUM)*
138, No. 1 Shoemaker (BAL)+
138, No. 5 Spader (SH)*
152, No. 1 Blackwell (BON)+
152, No. 6 Huseman (TON)+
160, No. 1 Puckett (BON)+
170, No. 6 Hampton (SH)+
195, No. 2 Coats (TON)*
220, No. 1 Scott (JW)+
220, No. 3 Miller (TON)*
*2012 state qualifer
+2012 state medalist
Additional state qualifiers
113, H. Miller (DES)
120, Pratt (BAL)
126, Wallingford (ATC)
126, Tavis (TON)
132, Clark (BAL)
132, Himpel (TON)
145, McCleary (B-L)
160, Harris (ATC)
160, Von Bargen (BAL)
170, J. Miller (DES)
220, Slitor (DES)
Tonganoxie — After nearly three months of preparation, the final stop on the road to state has arrived for high school wrestlers across Kansas. For a select few, the opportunity to punch that ticket lies within the confines of the Tonganoxie High gymnasium.
Tonganoxie is one of four schools set to host a Class 4A regional tournament today and Saturday. Wrestlers from 14 schools across northeast Kansas have made their way to THS in hopes of earning one of the 56 available spots in next week's state tournament in Salina. The top four finishers in each weight class will advance to the state meet.
The ninth-ranked Chieftains will wrestle in their own gym a week after winning their second consecutive Kaw Valley League title. They'll try to not only defend their home mats, but improve on last year's third-place regional finish.
"Just like any sport, there's nothing better than knowing you've got that gym behind you," THS coach Jeremy Goebel said. "It's a great, spectator-friendly environment, and it's going to be fun for these kids that get to do it in their gym."
The host school is one of two ranked teams in the tournament field, joining the state's top-ranked 4A team in Bonner Springs. The Chieftains have five returning state qualifiers, while the Braves have four.
In total, the tournament field has 23 wrestlers who advanced to Salina in 2012, including seven who medaled. Tonganoxie's five qualifiers are the most by any school in this year's regional.
Like Bonner Springs, Baldwin returns four state wrestlers, including 126-pound runner-up Bryce Shoemaker. Shoemaker is the tournament's top seed at 138 pounds, but according to Bulldog coach Kit Harris, prior achievements quickly become irrelevant when the season is on the line.
"When you get to regional time, records and rankings pretty much get thrown out the window," Harris said. "Like I told our kids, the four medals aren't for the four with the best records; they're for the four that have the best weekend."
Other teams with multiple returning qualifiers are De Soto (3), Spring Hill (2) and Atchison (2). Basehor-Linwood, Jeff West and Sumner Academy each return one. Other teams in the field are Bishop Ward, Santa Fe Trail, Eudora, Piper, Ottawa and Perry-Lecompton.
Baldwin's Shoemaker is one of three state runners-up in this year's regional field. Others are Bonner Springs' Jonathan Blackwell (now at 152 pounds) and Jeff West's Justin Scott (220). All three are seeded No. 1 in their respective brackets, but will likely need to defeat other wrestlers currently present in the 4A rankings to clinch a regional title.
Teams have prepared for regional competition in their own ways throughout the season, but one thing has remained constant from program to program: the tournament's do-or-die nature can't lead to a timid performance on the mat.
"When you wrestle not to lose instead of wrestling to win, you shut down and you don't wrestle to your ability," Jeff West coach Shawn Dolezilek said. "We've tried to put them in a position where they have to challenge themselves."
Brackets for each weight class are available here. Regional action will begin at 2 p.m. and will be conducted on three mats. Today's competition will conclude with semifinal matches. The tournament will resume at 11 a.m. Saturday with consolation cross-bracketing. Updates will be available throughout the tournament at twitter.com/tonganoxie.