THS

wrestlers in first after one day at regional
Seven Chieftains punch tickets to state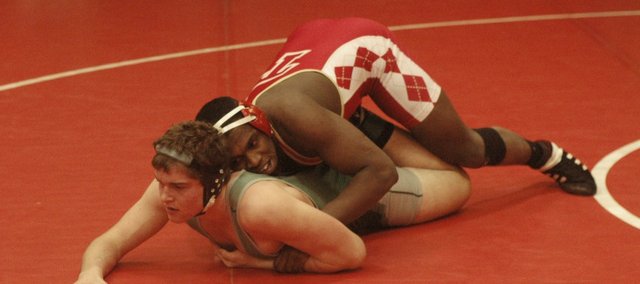 Following one day of competition at the Tonganoxie Class 4A regional wrestling tournament, the Chieftains have themselves in position to win their first-ever regional title.
The Chieftains will enter Saturday's action atop the team standings with 148.5 points. Bonner Springs (120.5), Baldwin (112) and Spring Hill (90.5) are still within striking distance of a team title.
Seven THS wrestlers have already clinched spots in next week's state tournament and will wrestle Saturday for individual titles in their respective weight classes. Dalton Tavis (126), Clayton Himpel (132), Asher Huseman (152), Luke Carey (182), Julius Coats (195), Thomas Miller (220) and Zeke Kissinger (285) each went undefeated on Friday and will return to the mat when Saturday's championship round gets under way.
Opponents for each wrestler are listed below. The seven finalists are the most by any school in the tournament. Bonner Springs has five in the finals, while Baldwin and Spring Hill each have four.
Garrett Martin (120) and Gus Dent (170) both fell in the semifinals, but can clinch state berths with one win on Saturday. Opponents for both wrestlers will be determined when consolation cross-bracketing begins at 11 a.m. Saturday.
Ethan Phillips (113), Dylan Yates (138), Seth Wolf (145) and Alex Kroll (160) are still alive, but must win multiple matches to stave off elimination and secure a top-four finish. Wolf needs two wins to punch his ticket to state, while Phillips, Yates and Kroll each must win three.
Team scores
Tonganoxie, 148.5; 2. Bonner Springs, 120.5; 3. Baldwin, 112; 4. Spring Hill, 90.5; 5. Jeff West, 47.5; 6. De Soto, 43.5; 7. Basehor-Linwood, 40.5; 8. Atchison, 36; T9. Ottawa, 30; T9. Perry-Lecompton, 30; 11. Sumner, 24; 12. Santa Fe Trail, 20; 13. Eudora, 19.5; 14. Piper, 12; 15. Bishop Ward, 8.
THS individual results
Name, record, next opponent
106 — Open
113 — Ethan Phillips, 0-1, Brandon Nanninga (OTT)
120 — Garrett Martin, 1-1, Opponent TBD*
126 — Dalton Tavis, 3-0, Donte Boose (SUM)+
132 — Clayton Himpel, 2-0, Tucker Clark (BAL)+
138 — Dylan Yates, 1-1, Pierce Holyfield (PIP)
145 — Seth Wolf, 1-1, Opponent TBD
152 — Asher Huseman, 3-0, Jonathan Blackwell (BON)+
160 — Alex Kroll, 0-1, Caleb Parenti (OTT)
170 — Gus Dent, 1-1, Opponent TBD*
182 — Luke Carey, 2-0, Dalton Weidl (OTT)+
195 — Julius Coats, 2-0, Dylan Thompson (SH)+
220 — Thomas Miller, 2-0, Justin Scott (JW)+
285 — Zeke Kissinger, 2-0, Brendan Neal (P-L)+
*Needs one win to clinch state berth
+Already clinched state berth