FINISH

IN

OUR

HOUSE

: Chieftain wrestlers win first-ever regional title
Eight qualify for state tournament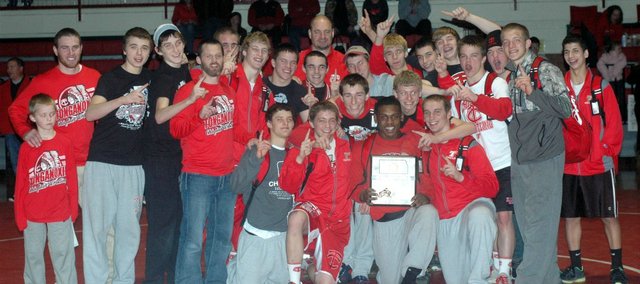 Photo Gallery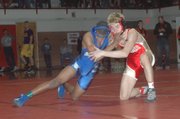 THS state qualifiers
Eight Tonganoxie High wrestlers will be in action Friday and Saturday at the Class 4A state tournament in Salina.
In the weeks preceding regional tournament action, members of the Tonganoxie High wrestling team wore T-shirts bearing the words "Finish in our house." Saturday night in their own gymnasium, they made that phrase a reality.
After watching a 28-point lead shrink to 18 with only the finals remaining, the Chieftains went a combined 4-3 in the championship round to clinch their first Class 4A regional title in school history. They bested the tournament field with 183.5 points — 21 better than second-place finisher Bonner Springs.
"Every week, every practice, no matter what we're doing, we have to finish," coach Jeremy Goebel said Saturday. "The step they took this weekend with the regional championship, they finished."
After back-to-back wins by Bonner Springs to open the finals, Dalton Tavis (126) won Tonganoxie's first individual title by pinning Sumner Academy's Donte Boose, who had lost just one match all season. Clayton Himpel (132) kept the momentum in the Chieftains' favor one match later, earning a 2-0 win against Baldwin's Tucker Clark with a two-point near fall as time expired in the third period.
"It was a do-or-die moment," Himpel said of his last-second win. "(Clark) got me on my back, but I flipped him over and got him on his back. It's too quick to think about; it just happens. The crowd helped me out there."
Julius Coats (195) later pinned Spring Hill's Dylan Thompson, and Zeke Kissinger (285) hung on for a 2-0 win against Perry-Lecompton's Brendan Neal to give THS four individual titles.
Asher Huseman (152), Luke Carey (182) and Thomas Miller (220) earned runner-up finishes in their respective weight classes, while Gus Dent (170) took third to give the Chieftains eight state qualifiers. The eight qualifiers were the most by any team in the tournament and tie the school record set last season.
Following the conclusion of the tournament, Goebel was named the regional coach of the year. However, he was quick to pass credit onto the wrestlers he's led to unprecedented success in 2013.
"It's the kids. They're the ones that put their shoes and head gear on and get ready to go to work every day," he said. "That's all the kids. They just bring it and they show heart, and that's something our coaches want to model for them. Whatever we're doing, there's got to be heart."
The Chieftains' state qualifiers will open competition Friday at the Salina Bicentennial Center. They'll try to improve on last year's performance, as the 2012 state team went just 5-17 and earned a single medal.
"We've got to go out there with no distractions," Himpel said. "Our main goal is just to finish, so we want to prove ourselves and finish at state."
State pairings are available at tonganoxiemirror.com. Himpel, a fourth-place state finisher in 2011, is the only Chieftain making his third state appearance. Tavis, Huseman, Coats and Miller are returning for the second year, while Dent and Kissinger are making the trip to Salina for the first time. Huseman won the team's only medal last year with a sixth-place finish.
Overall team scores
Tonganoxie, 183.5; 2. Bonner Springs, 162.5; 3. Baldwin, 151; 4. Spring Hill, 134.5; 5. Basehor-Linwood, 95.5; 6. Jeff West, 88.5; 7. De Soto, 85.5; 8. Atchison, 63; 9. Ottawa, 55; 10. Santa Fe Trail, 51; T11. Piper, 41; T11. Sumner, 41; 13. Eudora, 30.5; 14. Perry-Lecompton, 30; 15. Bishop Ward, 5.
THS individual results
106 — Open
113 — Ethan Phillips, 0-2 (N/A)
120 — Garrett Martin, 1-2 (N/A)
126 — Dalton Tavis, 4-0 (First)
132 — Clayton Himpel, 3-0 (First)
138 — Dylan Yates, 3-2 (N/A)
145 — Seth Wolf, 2-2 (N/A)
152 — Asher Huseman, 3-1 (Second)
160 — Alex Kroll, 0-2 (N/A)
170 — Gus Dent, 3-1 (Third)
182 — Luke Carey, 2-1 (Second)
195 — Julius Coats, 3-0 (First)
220 — Thomas Miller, 2-1 (Second)
285 — Zeke Kissinger, 3-0 (First)