Soldier given warm welcome with Quilt of Valor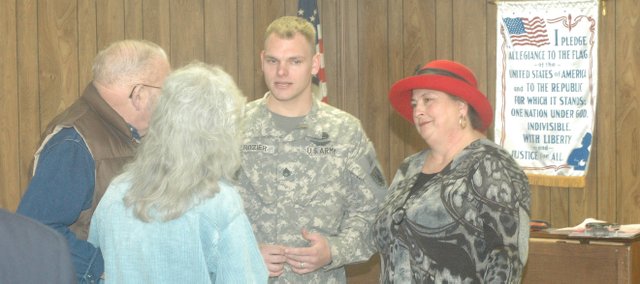 Staff Sgt. Zeke Crozier faced a difficult recovery after being injured in 2011 while serving in Afghanistan.
Last week, Tonganoxie area residents showed their gratitude and support with a ceremony at which he was presented a Quilt of Valor at the Florence Riford Senior Center.
Meri O'Hare, a member of the Tonganoxie Senior Quilters, presented Crozier with a quilt the group made through the Quilts of Valor Foundation. The quilts are given to military members who have been affected by war. O'Hare also is Crozier's aunt.
Crozier was serving in the U.S. Army as a Chinook helicopter flight engineer in 2011 in Afghanistan when he suffered a severe brain injury as a result of a helicopter crash.
Crozier, who is stationed at New Century Air Base in Gardner, sustained severe brain injuries, a shattered right hand, ruptured eardrum and cuts and bruises during the crash.
He was hospitalized in Germany before receiving medical care in Maryland and then Minneapolis.
"We are happy to have him here," O'Hare said. "God does answer prayers."
Crozier, 28, a Spring Hill High School graduate, also assisted in a 2005 earthquake relief mission in Pakistan in 2005, combat mission in Afghanistan in 2005-06 and humanitarian mission in Africa in 2009 before the 2011 combat mission.
He lives in Olathe with his wife, Lacy. They have three sons, Michijah, 9; Chase, 5; and Gunnar, 2.
The Quilt of Valor ceremony opened Feb. 12 with a welcome from O'Hare. Rev. Dirk Scates from Tonganoxie Christian Church said a prayer and the Tonganoxie High School Brass Quartet performed "America the Beautiful" for the roughly 50 people who attended the event.
Tonganoxie VFW Post 9271 presented the flags and the Pledge of Allegiance was recited.
O'Hare then told about the quilt, which the Tonganoxie Senior Quilters started Nov. 29. The quilt pattern is called whirlgig and is combination of red, white and blue. The quilting group met twice each week, aside from Christmas week, and finished the quilt in mid-January. Senior quilters are Cleopha Hurla, Frances Jeannin, Nadine Moore, Lucille Eskridge, Jean Pearson, Janet Stuke, Pam Jones and O'Hare.
The quilt measured 67 inches by 89 inches, O'Hare said.
The quilters make roughly eight or nine quilts each year. People request quilts be made each year and proceeds from the quilt go toward the senior center.
Eskridge said the quilters have raised between $35,000 and $40,000 for the center through quilt sales since Tonganoxie Senior Quilters started doing the quilts nearly 35 years ago. The senior center opened in 1979.
After last week's ceremony, Crozier said he appreciated the support in Tonganoxie.
"It's nice to know there's so much support there for the military," Crozier said.
Crozier sustained considerable brain damage, but has been able to recover. He still has memory loss, but has come a long way from that August day in Afghanistan.
"I can't explain it," Crozier said. "I just have been very lucky."
He credits faith with helping him through the injuries. He said people oftentimes can lose their religion and faith in such cases, but Crozier said it strengthened his beliefs.
O'Hare said the quilters plan to make more Quilts of Valor that will be given to the Tonganoxie VFW, which then will select local recipients.
Crozier said he appreciated the support he has received, but said people should continue to think about soldiers still fighting in Afghanistan.
"People need to realize there's still guys and girls over there everyday," he said. "More are going to get hurt until it's over. The war's not over just because I'm here and OK."