Third quarter dooms Chieftain boys in loss to
MVHS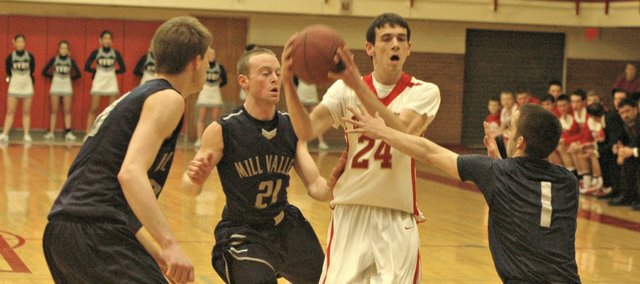 When Tonganoxie and Mill Valley went into the locker room at halftime, they were separated by just two points. However, in a matter of minutes after the break, a back-and-forth battle turned into a blowout.
THS played the visiting Jaguars even for one half on Tuesday, but couldn't recover from an error-plagued third quarter in a 65-41 loss.
Down 25-23 at the start of the second half, the Chieftains (8-11, 4-9 Kaw Valley League) turned the ball over on four of their first five possessions after the break, allowing the Jaguars (16-3, 11-2) to go on a 10-2 run. The game was out of reach by the time THS found an offensive rhythm, as Mill Valley owned a 48-30 lead at the end of the third quarter.
"When we started the third quarter, we didn't play with the same toughness," coach Shawn Phillips said. "We've got to play with that same level of intensity, and it's got to be for four quarters."
Phillips' squad never bounced back, and the Jaguars' lead grew to as many as 25 in the game's final minutes.
It looked as though Mill Valley might run away with the game early when it jumped out to a 20-11 lead early in the second quarter, but THS scored the next seven to get within a single possession, and the teams traded scores for the remainder of the half.
Mill Valley's Nathan Stacy led all scorers with 24 points. He was one of three Jaguars to reach double figures. James Grizzle paced Tonganoxie with nine.
THS will close out the regular season Friday at Bonner Springs. The Chieftains and Braves will meet again in sub-state quarterfinal action Monday in Tonganoxie.
"You always want to roll into the postseason with some success," Phillips said. "You'd feel a little bit better going in. Sub-state is all about the team that's hot at that moment. If you're playing hot at that time, anybody is capable of winning."
Score by quarter
Mill Valley 14 11 23 17 — 65
Tonganoxie 9 14 7 11 — 41
Individual scoring
MILL VALLEY — Nathan Stacy 8-14 6-8 24, Wyatt Voorhes 5-13 2-2 13, Brett Hamilton 3-5 4-8 10, Drew Boatwright 1-4 2-2 5, Kyle Kain 2-3 0-0 4, Patrick Muldoon 2-6 0-1 4, Evan Applegate 1-1 0-0 2, Staton Rebeck 1-4 0-0 2, Clayton Holmberg 0-0 1-2 1.
TONGANOXIE — James Grizzle 4-7 1-2 9, Jared Sommers 2-4 3-6 8, Jack Dale 1-6 6-8 8, John Lean 2-10 1-2 6, Eric McPherson 1-3 1-2 3, Tyler Ford 1-3 1-4 3, Ben Johnson 1-2 0-2 2, Eric Tate 0-1 1-2 1, Keaton Truesdell 0-1 1-2 1.