THS

girls fall short against Jaguars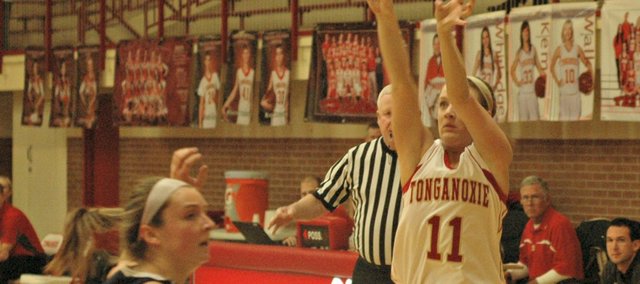 The Tonganoxie High girls led most of the way and had several chances to win in the final minute, but couldn't get over the hump in a 34-31 loss Tuesday against Class 5A Mill Valley.
The Chieftains (12-7, 9-4 Kaw Valley League) led by a 15-14 margin at halftime and stretched their advantage to five midway through the third quarter, but the Jaguars (18-1, 13-0) responded with an 13-3 run to take a 29-24 lead with less than five minutes remaining.
Despite falling behind for the first time in the game, THS battled back to within one and forced a turnover with 40 seconds left. However, after an errant free throw and two missed opportunities in the paint, the Jaguars (18-1, 13-0) regained possession and hit two free throws on the other end. Tonganoxie's chance for a game-tying three-pointer was erased when it threw the ball out of bounds on its final possession.
"I told the kids I'm very proud of them," coach Randy Kraft said. "They fought hard enough to give themselves a chance to win. We had several opportunities. We haven't wanted something that badly all year long."
A hot start gave the Chieftains some early momentum, as they jumped out to a 10-3 lead in the game's opening minutes. However, Mill Valley turned two turnovers into breakaway layups and knocked down a pair of free throws to make it a one-point game at the end of the opening period.
Offense was hard to come by in the second quarter, in which the teams combined for just 10 points.
Kraft's squad kept the Jaguars in check from beyond three-point arc all night, limiting them to a 20-percent effort (3-of-15).
"We didn't want them getting in a rhythm," Kraft said. "They had to work hard to get their open looks. They did get a couple of them, but I thought our guards defended well."
Mill Valley's Tanner Tripp made the Chieftains pay inside and finished with a game-high 18 points. Emily Soetaert and Katelyn Waldeier led THS with 11 and 10 points, respectively. Waldeier also pulled down 12 rebounds for a double-double.
The Chieftains will wrap up their regular season schedule Friday at Bonner Springs. The Braves, who will enter sub-state competition as the top seed in Tonganoxie's bracket, handed THS a 49-37 loss on Jan. 8.
"I think we have to play the same way," Kraft said. "We have to go in with the same intensity and realize that's a game that's going to carry us into sub-state. This loss doesn't hurt us as far as where we're at because we played that, and we've got to continue that in Friday's game."
Score by quarter
Mill Valley 9 5 9 11 — 34
Tonganoxie 10 5 9 7 — 31
Individual scoring
MILL VALLEY — Tanner Tripp 7-18 2-2 18, Mackenzie Conklin 2-2 5-6 10, Carly Eaton 1-1 0-0 2, Brooklyn Sloop 1-4 0-0 2, McKenzie Koch 0-3 2-4 2.
TONGANOXIE — Emily Soetaert 4-6 0-0 11, Katelyn Waldeier 4-9 2-2 10, Hannah Kemp 1-6 2-3 4, Madee Walker 1-6 1-2 4, Jenny Whitledge 1-7 0-0 2.