McLouth hoops teams learn sub-state assignments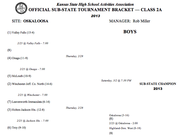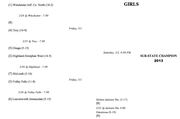 The McLouth High boys are seeded fifth and the girls seventh in their respective Class 2A sub-state brackets, released Wednesday by the Kansas State High School Activities Association.
The boys (10-9) will travel Monday to Onaga for their opening round game. The winner will advance to the semifinals to play either top-seeded Valley falls or the winner of No. 8 Oskaloosa and No. 9 Doniphan West.
Other first-round boys games are No. 7 Leavenworth-Immaculata at No. 2 Jefferson County North and No. 6 Troy at No. 3 Jackson Heights.
The MHS girls (3-16) will open Tuesday at No. 2 Doniphan West. The winner will play either No. 1 JCN or the winner of No. 8 Jackson Heights and No. 9 Oskaloosa.
Other first-round girls games are No. 5 Onaga at No. 4 Troy, and No. 6 Immacuata at No. 3 Valley Falls.
Sub-state and championship games will be played at Oskaloosa. The boys semifinals are scheduled for Thursday and the girls games are on Friday. Both title games will take place Saturday.