Chieftain wrestlers in sixth after one day at state
Himpel, Coats reach semifinals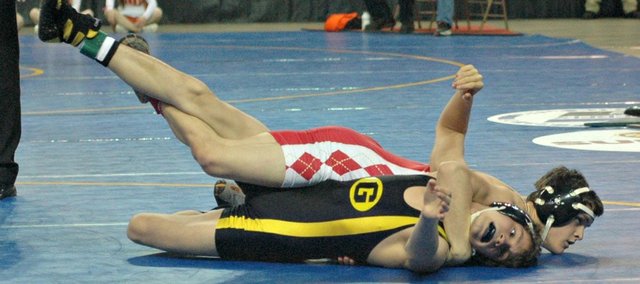 Salina — The Tonganoxie High wrestling team is sixth in the team standings after one day of competition at the Class 4A state tournament in Salina.
The Chieftains, who went just 5-17 at last year's state tournament, went a combined 9-7 and accumulated 32.5 team points on Friday, nearly tripling their entire output from 2012 (12).
"We always use the analogy 'get the train going,'" coach Jeremy Goebel said. "It will go straight down the tracks, but we've got to get it started."
Defending state champion Andale finished Friday's competition atop the team ranks with 44.5 points.
Individually, Goebel's squad had two wrestlers reach the semifinals. Clayton Himpel (132) and Julius Coats (195) each went 2-0 to reach the round of four in their respective weight classes.
Dalton Tavis (126), Asher Huseman (152) and Thomas Miller (220) also won in the opening round, but moved into the consolation after suffering losses in the championship quarterfinals. Luke Carey (182) and Zeke Kissinger (285) bounced back from opening-round losses with consolation victories.
Gus Dent (170) was eliminated from competition after losing in the first and second rounds.
Action will resume at 10 a.m. Saturday with the championship semifinals and consolation quarterfinals. Himpel and Coats have already guaranteed themselves medals and can reach the state finals with one more win each. The remaining THS wrestlers must win their next two matches to avoid elimination and reach the medal rounds.
"We've got to come back with backside wrestling," Goebel said. "We've got to be ready to go from the first whistle to the last whistle."
Top 10 team scores
Andale, 44.5; 2. Colby, 44; 3. Chanute, 42; 4. Prairie View, 38; 5. Bonner Springs, 34; 6. Tonganoxie, 32.5; 7. El Dorado, 32; 8. Holton, 31.5; 9. Augusta, 31; 10. Royal Valley, 26.
THS individual results
Name, Record, Next opponent
126 — Dalton Tavis, 1-1, Sam Seaton (Basehor-Linwood)
132 — Clayton Himpel, 2-0, Kyle Wilson (Wamego)
152 — Asher Huseman, 1-1, Mitchell Baird (Pratt)
170 — Gus Dent, 0-2 (N/A)
182 — Luke Carey, 1-1, Lee Koch (Anderson County)
195 — Julius Coats, 2-0, Skyler Hittle (Concordia)
220 — Thomas Miller, 1-1, Austin Hart (Colby)
285 — Zeke Kissinger, 1-1, Josh Horn (Winfield)