Chieftains finish 10th at state wrestling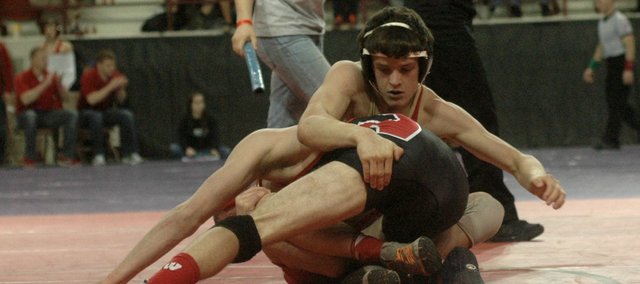 Salina — All year long, Tonganoxie High wrestling coach Jeremy Goebel has summed up the team's goals with one word: Finish. Saturday at the Class 4A state tournament in Salina, Goebel's squad did just that.
One week removed from their first-ever regional title, the Chieftains wrapped up their season with the highest state finish in school history, placing 10th with a team score of 54.5 — 42.5 points higher than last year's performance.
"We took a step in the right direction," Goebel said. "After last year's placing, we came to compete this year and were in the mix from the get-go. The kids did a great job. They left it all on the mat."
Three wrestlers earned individual medals along the way, as Julius Coats (195) and Clayton Himpel (132) took fourth, while Thomas Miller (195) finished sixth. That ties the school mark for medalists in a season.
Himpel and Coats each won their first two matches of the tournament, but lost in the semifinals of their respective weight classes. Both rebounded with wins to reach the consolation finals, but failed to win in the medal rounds. Miller won back-to-back matches on Saturday to avoid elimination, then fell in the fifth-place match.
"We definitely did better than last year," said Himpel, a three-time state qualifier and two-time medalist. "The coaches preached all year to finish, and that's what we did. We may not have finished our last matches how we wanted in the medal round, but taking home three medals is pretty good."
Himpel finished the season with 40 wins, finishing one shy of the school record set by Ross Starcher in 2004.
Dalton Tavis (126) got within one win of the medal rounds before getting eliminated. Asher Huseman (152), Luke Carey (182) and Zeke Kissinger (285) each entered Saturday's competition with a shot at medaling, but all three exited the tournament after losing their first matches of the day.
Gus Dent (170) was eliminated Friday after suffering losses in the first and second rounds. The eight state qualifiers tied the school record for most in a season originally set by the 2011-12 team.
The state tournament marked the end of the road for three seniors in Coats, Miller and Dent. Goebel said this will mark the first time in his tenure that every member of a senior class won a Kaw Valley League title and qualified for state.
Additionally, each senior led the team in at least one statistical category. Coats led the Chieftains with a school-record 127 takedowns and six technical falls, Miller had a team-high 32 pins and Dent paced the team with 35 escapes.
"Those kids put in so much time and were huge contributors," Goebel said. "They helped set that bar for the next group. They were leaders. They had a vision from the start, and they finished strong. As a coach, those are the seniors you want on your team."
Next year's Chieftain squad will return five 2013 state qualifiers, as well as 2012 state qualifier Joe Wolf, who missed most of this season with an injury. That group also accounts for three medals — fourth-place finished by Himpel in 2011 and 2013, and a sixth-place finish by Huseman in 2012.
"They're ready to go for next year," Goebel said. "We go to camp and put in the work in the summer, and this group is going to continue to do that. Any time you have kids with that much experience at that level, it's only going to trickle down to the kids experiencing it for the first time."
Top 10 team scores
Holton, 104.5; 2. Colby, 96; 3. Andale, 90.5; 4. Bonner Springs, 90; 5. Prairie View, 85; 6. El Dorado, 78; 7. Pratt, 62; 8. Fort Scott, 59.5; 9. Chanute, 59; 10. Tonganoxie, 54.5.
THS individual results
126 — Dalton Tavis, 2-2 (N/A)
132 — Clayton Himpel, 3-2 (Fourth)
152 — Asher Huseman, 1-2 (N/A)
170 — Gus Dent, 0-2 (N/A)
182 — Luke Carey, 1-2 (N/A)
195 — Julius Coats, 3-2 (Fourth)
220 — Thomas Miller, 3-3 (Sixth)
285 — Zeke Kissinger, 1-2 (N/A)