Chieftain girls to see unfamiliar Sumner team in opening round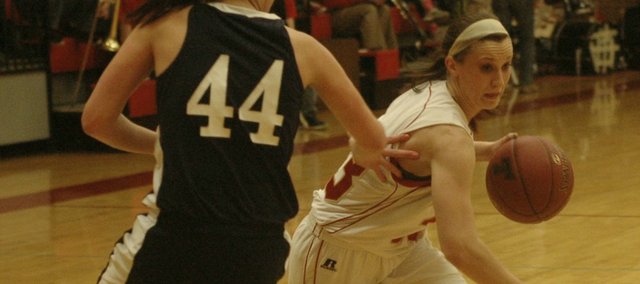 When the Tonganoxie High girls open sub-state competition tonight on their home floor, they'll do so with a sense of uncertainty. The Chieftains will play their first game in more than a week, and they'll do so against a Sumner Academy team they haven't seen in two years.
According to senior Hannah Kemp, though, that may be for the best.
"They play in a totally different league than we do," Kemp said. "I think that's good for us because that means we really need to play our best since we have no idea what we're going up against. We've just got to come out and play like we know how to play."
Fourth-seeded THS (12-7) will play host to the fifth-seeded Sabres (8-11) at 5 p.m. in an opening-round contest originally scheduled for Tuesday. The Chieftains enter the game on a three-game stretch that includes two mercy rule victories and a narrow loss to Class 5A power Mill Valley. Meanwhile, Sumner won to of its last three with wins against Harmon and Washington.
The last official meeting between the two squads also came in a sub-state opener, as the Sabres ended Tonganoxie's 2010-11 season with a 50-40 win in Kansas City, Kan. The teams haven't faced off since, with the exception of a summer league game.
"We kind of know a little bit about their personnel, but summer ball is a lot different than season ball," coach Randy Kraft said. "We've got an idea from watching some game film, and I think we match up OK with them."
Despite finishing the regular season with a losing record, Sumner finished second in the Kansas City-Atchison League with a 7-2 league mark. Sabre seniors Janicka Burgess and Taj Brimmer have led the charge. THS wrapped up the year tied for third place in the Kaw Valley League standings with a 9-4 record. Senior Jenny Whitledge and junior Katelyn Waldeier have been the team's top scoring and rebounding threats.
Following back-to-back snow days last week, THS returned to the court Sunday for its first practice in four days. The Chieftains had a shortened practice Monday and took Tuesday off as they continue to deal with adverse weather.
"It's a little disappointing that we had a snow day (Tuesday)," Kemp said. "Now that we're playing Wednesday, it's going to be harder on us physically, and it's always harder mentally. We really need to focus in and try to stay in-tune."
The winner of tonight's contest will advance to Friday's semifinal, where it will play the winner of No. 1 Bonner Springs and No. 8 Perry-Lecompton at THS.
"We talked about the fact that this is a new season," Kraft said. "The regular season is over, so you've got to come in and take each game as they come. You don't want the pressure there too much, but to keep them mentally sharp and ready, they have to know that's the reality of it."