Saying 'yes' to the dress
Two teens create closetful of dresses to share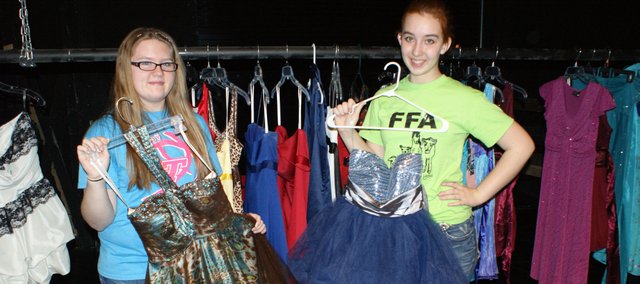 Middle school and high school girls concerned about affording a dress for spring school events might find a solution at Tonganoxie High School.
Haley Arevalo and Danielle Focht, both THS freshmen, have created Cinderella's Closet, a service that offers free dresses and accessories to youths.
Arevalo said she first started thinking about the project while an eighth-grader last year at Tonganoxie Middle School. The school has its annual Night of the Stars for which students dress up.
"I realized some of the girls had worn the dresses before and didn't have the money to buy a new dress," Arevalo said.
Cinderella's Closet also is Haley's Girl Scout Gold Award Project for Girl Scout Troop No. 691 and her Star Event Program for Tonganoxie High School's chapter of Family, Career and Community Leaders of America with Focht.
To fund the cause, Arevalo applied for a Leighty grant through First State and Bank and Trust and was awarded $750 for her cause. Arevalo also participated in a fashion show through Natalie M. designer clothing store in Shawnee. She raised $100 through that event, which she applied to her Cinderella's Closet budget.
In addition to purchasing dresses, Arevalo has used the money to purchase clothing racks, shoes and accessories, as well as supplies for temporary changing rooms. She purchased dresses from Sears and J.C. Penney outlets, Dillards, Natalie M. and BE Boutique. Some businesses have donated dresses, as have high school students and some adults. Arevalo estimated that roughly 90 percent of the dresses have been donated. There are about 220 dresses currently available.
Girls in middle school and high school can get a sneak peek at available dresses with a fashion show at 7 p.m. Friday, March 8, at the Tonganoxie Performing Arts Center on the THS campus. The dresses will be available to try on from 9:30 a.m. to 4 p.m. Friday, March 15, and Saturday, March 16, at the Chieftain Room on the THS east campus. Pam Arevalo, Haley's mother, teaches Spanish at THS. Her classroom is across the hall from the Chieftain Room. The changing rooms will be set up in her classroom.
Cinderella's Closet already has helped a few girls find a new dress for homecoming and winter royalty dances. And, there are some adult sizes available if any women are in need of formal wear.
Haley said the opportunity for someone to have a dress when she otherwise might not be able to afford it is important. She said it was gratifying to see the look on girls' faces when they find a dress that they can wear.
"It will build their self-esteem up," Haley said.
Pam agreed.
"One of things Haley has talked about is how it's just devastating to a girl if she can't participate in prom or Night of the Stars," Pam said. "A big part of social equity is having a dress that makes you fit in and own the occasion.
"It's been a lot of fun for girls to try on dresses. It's a good experience to see yourself in a different light ... It does a lot for a girl's self-esteem."
The THS freshmen also have reached out to McLouth and Basehor-Linwood school districts to invite girls from those schools to the fashion show and open dates for obtaining dresses.
Focht said the project has come with challenges, such as finding girls willing to model dresses.
"They're nervous to come out on stage," Focht said.
Haley said another challenge has been finding larger-size dresses. And, finding that there are some discrepancies from store to store in sizing.
"A size 6 isn't always the same," Haley said.
Pam noted the FCCLA project focuses on being a savvy consumer. Haley said they found a group of dresses valued at $800 that cost $92 at Sears Outlet. They even found deals on eBay.
"I think one of the things Haley has learned is how much work goes into a big project and management and all the elements of it," Pam said. "Figuring out how much to spend on dresses versus racks and a couple mirrors and stuff to make dressing rooms. She'd rather spend on dresses, but you have to have the other stuff."
Girls receiving the dresses can keep the dresses or donate them back for others to use. To donate, or for more information, contact Pam at 913-683-0964 or parevalo@tong464.org.