Area's retail development spurs construction of apartment complexes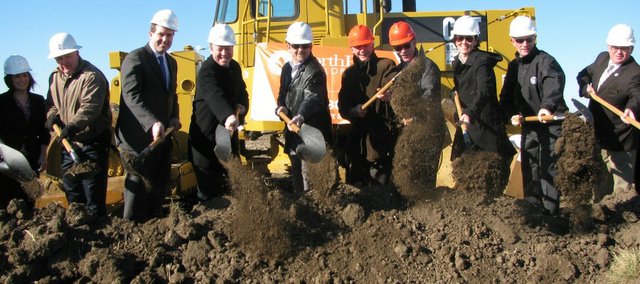 Guy Tiner, a Wyandotte County residential developer, is preparing to build a 248-unit, gated apartment complex sometime in the next year — one of several apartment developments in the works in western Wyandotte County.
Why bring such a large development to a small town of about 7,300?
"I think that Bonner Springs is ready," Tiner said.
The readiness comes from several factors: the city's highway access, easily taking residents to various points in the Kansas City metropolitan area; the improvements the city and county are doing to local streets; and perhaps the biggest factor, the Village West economic growth engine in western Wyandotte County.
The need for housing for those who work at the retail area and those who soon will be working at the Cerner Corp. campus means Tiner's new complex will have many potential renters.
"The deal I'm excited about is, when you get upscale apartments, you're looking at having more house sales," said Tiner, who also developed the Bonner Springs single-family neighborhood Lei Valley, where house prices in the last decade have gone from a maximum of $190,000 to a maximum of $320,000. "Upscale apartments bring nice housing projects."
Edwin Birch, public information officer for the county, said four other apartment complexes are in the works in western Wyandotte County, with a total of more than 1,480 apartment units.
According to Home Builders Association data, the county has experienced a surge in residential construction, with a 34 percent increase over 2011. Single-family housing starts totaled 68 in 2011 and 137 in 2012. About 380 multifamily residential units were built in the last year. No multifamily units were built in the county in 2011.
The most visible apartments, immediately west of the retail area, will be the $34 million Village West Luxury Apartments, a 306-unit complex that broke ground Jan. 18 at 110th Street and Stadium Drive. The apartments, which will include attached and detached garages, walking trails, clubhouse, and an interior water feature, are expected to be complete by September.
At the groundbreaking of the apartments, Joe Reardon, Mayor and CEO of the Unified Government of Wyandotte County and Kansas City, Kan., reflected on the housing developments that the county's growth has spurred.
"We've focused on this amazing asset here in Village West, and we decided long ago to invest in economic development projects that would attract people to work and live our community like the high-quality jobs with Cerner. Those pieces of the puzzle are forming together in an amazing way," Reardon said. "It's going to help support all of what we're doing in Kansas City, Kansas, regardless of where you live."
In addition to Tiner's complex in Bonner Springs, to be called "The Villages," other apartments in some stage of development are:
• Delaware Ridge, currently under construction at State Avenue and 130th Street, with 228 one- to three-bedroom market rate units.
• Prairie Heights, in the planning stages at State Avenue and 126th Street; market rate apartments to be built in five phases and consist of about 340 one- and two-bedroom units.
• Raintree 1 LLC's yet-to-be-named 592-unit, $50 million apartment complex at 1300 S. 94th St., Edwardsville, a project that has been in the works since 2007. Plans call for the one- to three-bedroom units to be built in two phases.
Related: Wyandotte County officials pin hopes on additional single-family homes