Chieftain girls blast Sumner in sub-state opener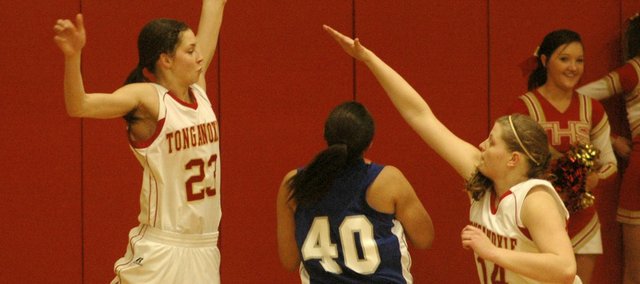 After more than a week since their last live competition, the Tonganoxie High girls weren't quite sure what to expect. What they got was arguably their most dominant defensive game of the year.
THS allowed just five points in the first half and cruised to a 54-23 win against Sumner Academy Wednesday in the first round of its Class 4A sub-state tournament. The first-half and total points allowed were the fewest by any opponent this season.
The fourth-seeded Chieftains (13-7) jumped out to a 12-0 lead and didn't allow the fifth-seeded Sabres (8-12) until nearly seven minutes into the game. THS took an 18-4 lead into the second quarter and allowed just one more point before the break.
When the halftime buzzer sounded, the Chieftains had twice as many turnovers forced (10) as they did points allowed and owned a 33-5 lead.
"I was particularly happy with the first half," coach Randy Kraft said. "We knew we had some rust to shake off, but I was proud of how we defended and took care of the ball."
Sumner played THS even for the duration of the third quarter, but the deficit reached 31 points with 5:11 left in the fourth, and a running clock went into effect for the remainder of the game.
The Chieftains have won three of their last four games by more than 30 points. They've allowed just 27.5 points per game during that stretch.
"Our big thing is to guard people and not let them get to the basket," Kraft said. "We worked on that hard in the last few games. We did a better job of communicating, so even when our man got by us, we were there to help each other."
Jenny Whitledge led the offensive charge with 18 points, while Emily Soetaert and Katelyn Waldeier each added 10.
With the win, THS advances to Friday's semifinal round, where it will take on No. 1 Bonner Springs at 7:30 p.m. Friday. The Braves advanced Wednesday with a 66-35 win against Perry-Lecompton.
"We've definitely got to keep our head in the game and be very intense in practice (Thursday)," Whitledge said. "We've got to make less mistakes than our opponent, so we really need to be focused."
Score by quarter
Sumner 4 1 12 6 — 23
Tonganoxie 18 15 10 11 — 54
Individual scoring
SUMNER — Jamie Redic 3-11 1-3 8, Taj Brimmer 2-3 2-2 6, Janicka Burgess 2-8 0-0 4, Jabrea Strickland 1-1 0-0 2, Sydnei Patton 1-4 0-0 2, Angela Franklin 0-5 1-2 1.
TONGANOXIE — Jenny Whitledge 8-13 2-4 18, Emily Soetaert 5-7 0-0 10, Katelyn Waldeier 5-11 0-2 10, Hannah Kemp 2-6 3-6 7, Madee Walker 2-8 0-0 4, Brenna Kietzmann 1-1 0-0 2, Sarah Ahart 1-2 0-0 2, Kara Banks 0-1 1-2 1.