Fans flock to
KCK

for soccer, baseball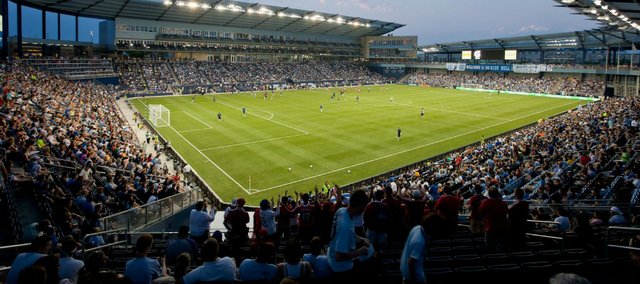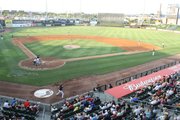 Empty seats were a rarity at Sporting Kansas City games in 2012.
The Major League Soccer team averaged 19,404 fans for its home games, selling out 16 of 17 regular-season home games at Sporting Park.
Seating capacity is 18,467, but with standing room only tickets available, capacity exceeds that number.
Of course, it didn't hurt that Sporting KC was one of the top teams in the league and won the midseason Lamar Hunt Open Cup.
"That's our No. 1 business model: Produce a winning team," said Rob Thomson, executive vice president of communications and digital for Sporting KC. "That is key to everything we do.
"That comes from everyone, the coaching side, the business side … winning championships. That's our goal."
The previous average attendance was 17,810 set in 2011, the stadium's inaugural season. Sporting Kansas City previously played at CommunityAmerica Ballpark, just up the road from Sporting Park, and Arrowhead Stadium.
The team appears to be building on the momentum from 2012, as season ticket renewals already are at 95 percent from the previous season, Thomson said.
"We're leading the league in new ticket sales for the offseason," Thomson said. "It's great."
Because the team won the Lamar Hunt Open Cup, it automatically qualified with three other MLS teams to compete in this year's SuperLiga competition, which also consists of teams from Central America and South America.
The stadium will be the host for two high-profile soccer events later this year.
Officals announced in January that Sporting Park would be the site for this year's MLS All-Star Game, which will be July 31.
And Oct. 16, the U.S. Soccer Team will take on Guatemala in a World Cup qualifying match.
Though soccer is the main event, Sporting Park also has been home to a handful of concerts, including Farm Aid and Journey.
More concerts are expected to take place at the stadium, which has been used for company events as well.
Thomson said companies use the park's meeting spaces for seminars, board meetings and other business. It's also been used for weddings, Thomson said.
On the soccer side of things, whenever a sports team has booming attendance, stadium expansion can be a topic of discussion.
Thomson said the stadium was designed with expansion in mind, but additional seating isn't expected, at least not for now.
"Near-term, no, but it's on the radar," Thomson said. "It won't be for a little bit, but always is a possibility."
Premium seating, such as suites and other specialty areas, have been popular, Thomson said, and the stadium as a whole has received accolades internationally.
At last year's TheStadiumBusiness Awards ceremony in Turin, Italy, Sporting Park was given venue of the year and the community award. CEO Robb Heineman also was named executive of the year.
Sporting KC's first home game will be 2 p.m. March 16 against the Chicago Fire.
Baseball at CommunityAmerica Ballpark
Up the road from Sporting Park on State Avenue is another sports venue recording favorable attendance numbers.
CommunityAmerica Ballpark, home to the Kansas City T-Bones, was ranked fifth in average attendance for independent baseball in 2012 by Baseball Digest. It marked the fifth straight year the T-Bones ranked in the top five among independent baseball teams.
Overall, the T-Bones ranked 47th out of 388 teams that, along with independent leagues, were from affiliated minor leagues, summer collegiate leagues and the Mexican League.
"It's something obviously the club's really proud of," said Matt Fulks, director of media relations for the T-Bones. "I think, personally, we talk about this quite a bit, really combining what we think of the Ehlerts' vision when they came to Kansas City to provide a family, fan-friendly atmosphere and a good time at the ballpark and affordable prices."
John Ehlert is owner of the T-Bones, while son Adam Ehlert is president. The Ehlerts moved the Duluth-Superior Dukes in 2003 from Minnesota to Kansas City, Kan.
In 2008, it won a league championship when it was a member of the Northern League. The ballpark was named field of the year in 2009 and 2010 and organization of the year in 2004, 2007 and 2010.
Fulks said he's found that the stadium has been a vacation destination for some fans.
He recalled a recent email from a woman whose family plans its summer vacations to Kansas City around the T-Bones' and Royals' schedules. They make sure they pick a weekend when both the T-Bones and Royals are in town.
"It's just a good place to watch a game, not to mention the fact it's a really good product," Fulks said.
Kansas City was second in the American Association behind Winnipeg in 2012 average attendance. Kansas City had an average of 5,212 fans to Winnipeg's 5,938. Other area teams of interest: a Royals' affiliate, the Northwest Arkansas Naturals, ranked No. 62 with 4,656. The Springfield (Mo.) Cardinals, an affiliate of the St. Louis Cardinals, drew 5,111 fans per game and ranked 49th, two places behind the T-Bones.
The stadium has hosted concerts and other events in the past and has special baseball games and tournaments lined up for later this year.
The Bonner Springs High School tournament will be in April and on the collegiate level, the MIAA baseball championships will be in May. There also are roughly 10 standalone high school games scheduled for April and May. There also will be several charity walks/runs, including the second annual Kevin Gray Father's Day Run on June 15 and the KCK RBI Classic All-Star Game in June to name a few.
No matter a spectator's level of fandom, Fulks said the stadium offers something for everyone.
"We're trying to make it a fun atmosphere for everyone," he said. "For baseball purists who want to see the game or for people who are there for Thirsty Thursdays or some other great promotions, you can have something to enjoy."
The T-Bones open the 2013 season May 7 at home against the Lincoln (Neb.) Saltdogs.