Hot start powers
THS

boys by Bonner Springs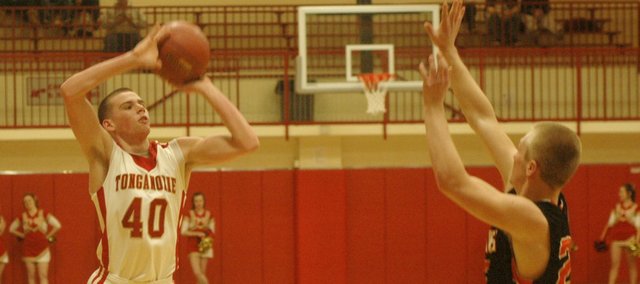 What looked like a potential blowout turned into a battle late in the second half, but when it was all said and done, the Tonganoxie High boys guaranteed themselves at least one more game.
THS watched a 16-point lead shrink to four in the fourth quarter, but used a late scoring run to pull away in a 65-56 win against Bonner Springs in Wednesday's sub-state opener.
A hot start gave the fourth-seeded Chieftains (9-11) a double digit lead after one quarter, as they reeled off 25 points in the first quarter alone. The surge continued into the second quarter, as THS shot 70 percent (14-of-20) in the first half. The fifth-seeded Braves (8-12) couldn't match that early offensive firepower, as the Chieftains took a 38-27 lead into the locker room at the break.
"They came out and played a zone and we came out and shot a few jump shots," coach Shawn Phillips said. "Luckily, some of those threes went in early. When you see shots go in early, it makes it a lot easier later on. It builds your confidence."
Phillips' squad scored five quick points to stretch its lead to 16 early in the third quarter, but three consecutive turnovers by the Chieftains ignited a 14-4 BSHS run that made it a two-possession game late in the period.
The Braves hung tough and got within four midway through the fourth quarter, but THS extinguished the comeback attempt with a 10-2 run in the final minutes.
"If we take care of the ball and convert, maybe we win it going away," Phillips said. "What we can't afford to do moving forward is have spells where we turn it over in bunches."
Jack Dale led all scorers with 18 points, including an 11-of-15 effort from the free throw line. John Lean joined Dale in double figures with 13 points, while Logan Terrell paced BSHS with 11.
The Chieftains will be back in action at 7:30 p.m. Thursday when they play host to top-seeded Piper in the semifinal round. The Pirates cruised to a 76-46 win against Perry-Lecompton on Wednesday. They swept THS in two regular season meetings, but needed a buzzer beater for a 68-66 win on Feb. 8.
"We'll rest tonight and go through our scouting report right after school," Phillips said. "Hopefully we'll be ready to go. We've got a big rematch with them, so hopefully we can come out on top here at home."
Score by quarter
Bonner Springs 14 13 14 15 — 56
Tonganoxie 25 13 10 17 — 65
Individual scoring
BONNER SPRINGS — Logan Terrell 4-12 0-0 11, Brenden Dotson 4-7 0-1 9, Jordan Jackson 4-12 0-2 9, Brandon Moore 3-5 0-0 6, Travis Dooley 2-3 0-0 5, Jason VanMaren 2-5 0-1 5, Zshavon Dotson 2-8 0-0 5, Tyler Howell 1-2 2-4 4, Weston Vitt 1-4 0-0 2.
TONGANOXIE — Jack Dale 3-6 11-15 18, John Lean 5-8 1-3 13, Tyler Ford 3-5 3-6 9, Ben Johnson 2-2 2-2 6, Jared Sommers 2-4 1-2 6, Eric McPherson 3-5 0-0 6, Eric Tate 2-3 0-0 4, James Grizzle 0-1 3-4 3.