Recreational opportunities abound in Wyandotte County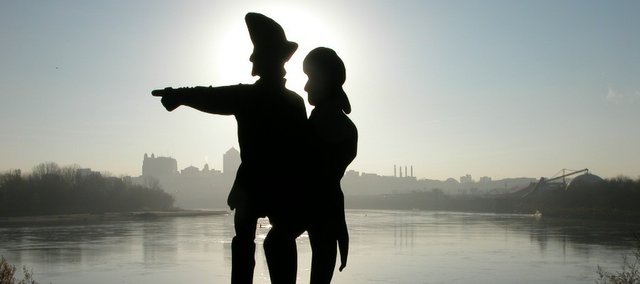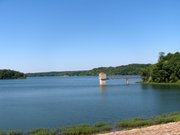 The water boils — and, in winter, little icebergs crash — at the confluence of the Kansas and Missouri rivers at Kaw Point Park.
Seen as a sacred point by Native Americans centuries ago and explored by Meriwether Lewis and William Clark in the early 1800s, the point, and a surrounding park, is ready to be discovered again.
"The magic of this park is the confluence of the two rivers," Kaw Point Park chairman Mike Calwell said. "People are always enchanted by rivers. You just can't help the feeling of when you stand and see two rivers crash together. And at night it's really an unparalleled scene when it takes on a rainbow color."
Recreation opportunities abound in Wyandotte County and some, like Kaw Point Park, converge leisure with history.
Calwell and a board of directors gathered to renovate the park after the 1993 flood and years of neglect.
What had become more or less a junkyard transformed into a 10-acre park that in October was designated as a Natural Historic Trail Destination. Now, with the oversight of a board of directors and scores of annual volunteers, Kaw Point Park is as attractive as ever.
"You can get amazing stuff done with 200 people on a 10-acre piece of property," Calwell said.
Another recent addition is a $2.5 million natural stone amphitheater. At the Confluence of Nations Plaza, the focal point of the park, flags from 19 regional native tribes are represented and an open-air education pavilion describes the events of Lewis and Clark's 1804 stay at the point.
A 24-hour boat ramp was constructed in 2004 at the confluence of the two rivers and 600 yards of biking and hiking trails line the park, also open 24 hours a day.
"When people come through, I never fail to hear someone say, 'Man, what a cool place; how come I didn't know about it?'" Calwell said.
Spend a day at the lake
Wyandotte County Lake Park offers recreation opportunities as diverse as the park is expansive. Scenic nature and bridle trails surround the lake and the F.L. Schlagle Nature Library provides a stop for exhibits of the various native wildlife from around the lake area. The library is also host to the annual Eagle Day Celebration, which typically takes place each year in late January or early February.
Up to a dozen species of fish can be caught in the 407-acre lake. Edwin Birch, public information officer for the Unified Government of Wyandotte County and Kansas City, Kan., also said the Kansas University women's rowing team will use the lake on occasion.
Birch called the lake one of the hottest recreation spots in Wyandotte County, with fishermen and boaters a presence year round. With 16 shelters surrounding the lake, Birch said, the lake is a popular destination for many living both within and outside the county.
Wyandotte County Park in the northern tip of Bonner Springs is also a popular destination, and is also the site of multiple high school cross-country meets each fall. For a full list of the dozens of parks in Wyandotte County, visit wycokck.org.
Soccer fields still forthcoming
Birch said that while basketball remains a popular youth activity across Wyandotte County, soccer has continued to swell in popularity.
A growing Hispanic population coupled with the presence of Sporting Kansas City — and the franchise's promise to build a new 18-field tournament-quality soccer complex at Wyandotte County Park — has helped stoke the sport's popularity in the area, Birch said.
The soccer fields were part of the deal that brought Sporting Park and the Cerner office development to the VillageWest area.
Though Sporting KC's late 2012 target passed without ground breaking on the project, the club insists it is committed to building the fields, which would be placed along the northern areas of the park with others near the Wyandotte County Historical Museum.
"We're trying to make this the best project for as many people as possible," Sporting KC spokesman Rob Thompson said. "If we rolled it out two years ago, it wouldn't have been as robust as we are trying to make it now."
Thompson said more news from the club would come soon, calling recent media reports indicating Sporting KC had reneged on its promise "unfair."
"We set the deadline with this, and it is something we are prioritizing, something that makes the most amount of sense for people," Thompson said.
Added Birch, "It's taking a little bit longer than what had been expected. They want to make sure everything is the best quality, just like their own soccer stadium."
Go 18 holes
Sunflower Hills Golf Course, 12200 Riverview Road, Bonner Springs, is home to the annual Wyandotte County Open, the longest running tournament of its kind in the greater Kansas City area. Wyandotte County is also home to Dub's Dread Golf Course, 12601 Hollingsworth Road, Kansas City, Kan., and Painted Hills Golf Course, 7101 Parallel Parkway, Kansas City, Kan.
Dub's Dread was named one of the state's top 10 golf courses by Golf Digest in 1996 and since it opened in the early 1960s has seen golfers such as Byron Nelson, Sam Snead, Arnold Palmer and Jack Nicklaus try to solve it.
Painted Hills is adorned by tree-lined fairways and features a banquet facility capable of serving up to 275 guests or an additional 125 on its veranda overlooking the golf course.
Even more
• Reservations for community or recreation centers can be made in person at the Unified Government's administration office, 5033 State Ave. Birch said the community centers fill up around holidays and are popular for annual arts and craft events.
• Both Kansas City, Kan., and Kansas City, Mo., mayors celebrated the completion of the bi-state Kansas and Missouri Bike Trail project in late 2012. The concept for the Riverfront Heritage Trail came about more than 14 years ago. Designed as a fully accessible, well-lit bicycle and pedestrian pathway, the trail extends from the riverfront through some of the most historic parts of bi-state Kansas City.
• An ongoing partnership with the Kansas City T-Bones minor league baseball franchise, the Wyandotte County Parks Foundation and the Unified Government continues to produce accessible playgrounds in the county.
The new playgrounds, the latest of which was unveiled near the main entrance of Wyandotte County Lake Park, are part of an effort to build playgrounds throughout the county that are accessible per the requirements of the Americans with Disabilities Act.
• Schlitterbahn Kansas City Waterpark begins its fifth season in 2013 and second in which visitors will get the park's full experience after years of expansion. Lodging and retail developments are still in the works, but the park's aquatic amenities are now at full strength. The park's 2013 season extends from May 24 to Sept. 2. The full 2013 season price for ages 12-54 is $124.99, although an early-bird special of $109.99 is still under way at schlitterbahn.com. Meanwhile, ages 3-11 and 55 and older can save $10 off the full 2013 price of $84.99. General admission in 2013 will run from $28.99 for an all-day pass for children and seniors and $36.99 for ages 12-54.
• A plow once owned by President Harry Truman is among the more than 300,000 agricultural relics on display at the National Agriculture Hall of Fame.
In 1960, President Dwight D. Eisenhower issued a rare federal charter to the National Agricultural Center and Hall of Fame, also called the Ag Center, to serve as a