THS

boys' season ends with semifinal loss to Piper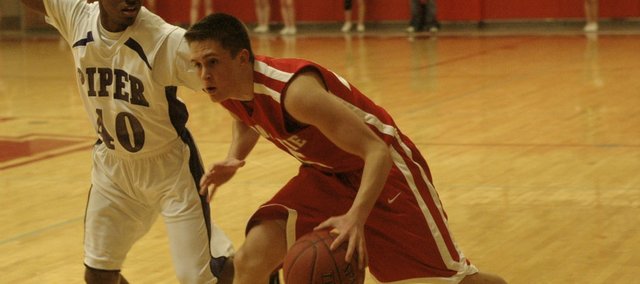 For more than a half, the Tonganoxie High boys went punch-for-punch with their sub-state tournament's top seed. But, like so many times this season, a second-half lull made all the difference.
The No. 4 Chieftains led No. 1 Piper by four points midway through the third quarter, but struggled down the stretch in a 68-49 loss to the eventual sub-state champion in Thursday's semifinal round.
THS (9-12) trailed by just one at halftime, 28-27, and clawed its way to a 37-33 lead in the opening minutes of the second half. However, things started to come unraveled at that point, as multiple turnovers led to a 16-3 run by the Pirates (16-5).
"That's been something we've dealt with all year long," coach Shawn Phillips said. "When teams really try to turn up defensive pressure, we've struggled to take care of the basketball. We've got to be stronger. Piper will get out and pressure the ball, and we've got to be able to handle that pressure."
Phillips' squad never recovered from the PHS surge, and the deficit reached as many as 20 points in the game's final minutes.
A hot start gave the Chieftains a 19-9 advantage after one quarter, as they penetrated the Pirate defense for several shots under the basket. Piper caught up in the second quarter, though, outscoring THS by a 19-8 margin to take a one-point lead into the locker room at the break.
"Our goal was to try to get the ball to the rim," Phillips said. "We did get some of that in the first quarter, but later in the game, we quit getting those opportunities because we had trouble getting the ball down to where we could see inside. We've got to continue to do that throughout an entire game."
Jack Dale, the Chieftains' leading scorer in almost every game this season, led the team with 11 points. Tyler Ford joined Dale in double figures with 10. Piper's Luke Long led all scorers with 14 points, while Vincent Eskina and Calvin Johnson each added 10. The Pirates earned a state bid with a 78-60 win against third-seeded Sumner Academy in Saturday's championship game.
The semifinal loss marked the end of the road for three THS seniors in John Lean, Blair Mathisen and Keaton Truesdell. Lean finished near the top of the team ranks in scoring for the second straight year, while the departure of Mathisen and Truesdell will leave two reserve spots up for grabs on next year's team.
Experience won't be an issue in 2013-14, as the Chieftains will return four regular starters and several key reserves, but Phillips admitted there are still several improvements to be made in the offseason.
"By the time next season rolls around, I'd like to see us get stronger in the weight room," he said. "We need to develop our ball handling against the pressure more and we need to be more aggressive in taking the ball to the basket. There are always little things that everybody can work on."
Score by quarter
Tonganoxie 19 8 15 7 — 49
Piper 9 19 25 15 — 68
Individual scoring
TONGANOXIE — Jack Dale 5-15 0-0 11, Tyler Ford 2-9 5-8 10, James Grizzle 3-4 2-2 8, Eric McPherson 3-4 1-2 7, John Lean 2-10 1-2 5, Ben Johnson 2-4 0-0 4, Eric Tate 1-1 1-2 3, Jared Sommers 0-2 1-3 1.
PIPER — Luke Long 5-11 3-4 14, Vincent Eskina 3-6 2-4 10, Calvin Johnson 2-7 6-8 10, Tyrone Jennings 1-4 6-10 9, C.J. Harper 4-5 0-0 8, Colton Beebe 3-3 0-0 6, Dominique Jennings 1-4 2-5 4, Tyler Owens 1-5 2-2 4, Matt McDonald 1-2 0-0 2, Bradley Rogers 0-0 1-2 1.