Morey earns manager spot at K-State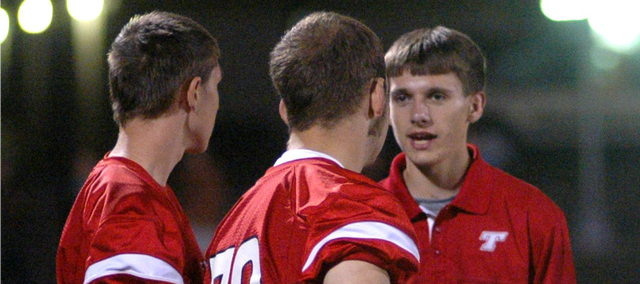 Brett Morey hasn't played a single minute of basketball since his freshman year at Tonganoxie High, but he's very much been a part of the program each of the last four seasons.
Now a senior, Morey assumed the role of equipment manager as a sophomore in 2010. Since then, he's been a mainstay at practice, games and other various team functions throughout the season and offseason alike. His time with the Chieftains will soon come to an end, but the same can't be said for his career in athletics.
Morey will continue his equipment manager duties next season as a member of the football program at Kansas State University.
"Over the past three years of managing for the basketball team, I figured out I kind of like being around a team atmosphere. I decided I might want to do this at an upper-level," Morey said. "I talked to a few people who knew some basketball managers, and they said it was a little hectic, so I thought about doing football instead since there's a more routine schedule."
Morey became a manager for the THS football team this past fall and sent a letter to K-State head equipment manager Al Cerbe and head coach Bill Snyder. He was contacted two weeks later and invited to Manhattan for an interview, which included a tour of the equipment areas.
Following the interview, Morey was invited back to help with various camps. His hard work paid off when the Wildcats awarded him a manager position, which includes a partial scholarship.
"You're not going to find a better kid," said THS boys basketball coach Shawn Phillips, who has shared a gym with Morey since he was a freshman. "He's smart, he works hard, he's dependable and he'll be a great addition to the staff there at K-State. I'm sure he'll do anything that's asked of him, and I hope he gets a lot out of the experience."
Morey isn't the first Tonganoxie High student to earn a spot on the Wildcats' staff. Rhett Clark, a 2006 graduate, was a manager for the K-State men's basketball team until 2010.
During his time at THS, Morey also ran on the cross country team. He's enjoyed plenty of success in the classroom, as he's been a constant on the principal's honor roll. Additionally, he was named a Kansas Honors Scholar in September. He plans to major in civil engineering at K-State.