Improvement top priority at Chieftain boys return to court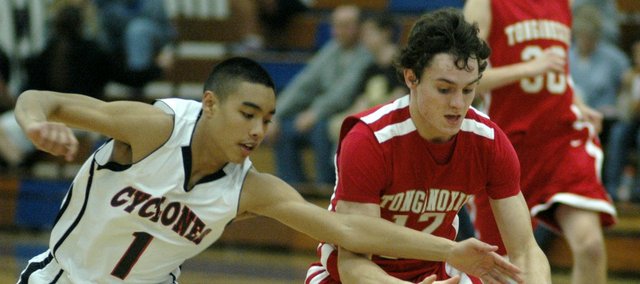 Boys KVL standings
League record, Overall record
Lansing 4-0, 7-0
Basehor-Linwood 4-0, 4-1
Piper 3-1, 6-1
Mill Valley 2-1, 3-2
Tonganoxie 1-3, 1-3
Bonner Springs 0-3, 2-4
Bishop Ward 0-3, 1-5
Turner 0-3, 0-5
A broken record may be the best way to describe the start of the Tonganoxie High boys basketball season.
Three times, the Chieftains welcomed a premier Kaw Valley League opponent to their home court. Three times, it was a close game until midway through the first half. Three times, costly errors and long runs by the opposition led to lopsided losses.
Coach Shawn Phillips' squad guaranteed it wouldn't go winless in 2012 when it came back for a 61-51 win Dec. 14 at Bishop Ward. With a little momentum now in its favor, THS has returned to the gymnasium to prepare for the 2013 portion of its schedule, which will open with a bang.
Inclement weather on Dec. 20 forced THS to move its game at Anderson County to Jan. 4, effectively giving the team three games in the five days after winter break. After the trip to Garnett, the Chieftains will play host to Metro Christian Academy and Bonner Springs on Jan. 5 and 8, respectively.
"We've got to be in shape and we've got to really stress conditioning because our legs are going to get punished over that course of time," Phillips said. "We've just got to work to get where we need to be. You've got to be ready to go right out of the gate. Over these next few practices, anything new we want to get in, we've got to really work on that and try to make it sound before we go into that first game."
Up-and-down performances were a mainstay in the Chieftains' first four games. Four different players reached double figures at least once, but only one player — freshman Jack Dale — has emerged as a consistent scoring threat.
Dale scored just four points in the first game of his career, but has averaged 16.3 points per game since then. He's led the Chieftains in each of the last three game with 15, 17 and 17 points, respectively.
"I've known for several years that Jack can shoot the basketball," Phillips said. "He's still got plenty of things he can work on to get better, but as a whole, I'm pleased with the effort he's putting in."
Junior James Grizzle, a transfer from Liberty (Mo.), is the team's second-leading scorer with 8.5 points per game. He scored a season-high 12 points in a loss to Basehor-Linwood on Dec. 14. Senior Lansing transfer Blair Mathisen opened his Chieftain career with a 10-point game against his former school, but has scored just four points since. Juniors Ben Johnson and Eric Tate have combined for 10.1 points per game, but neither has put together a breakout performance.
The roller coaster ride hasn't just affected the new faces, either. Junior Tyler Ford, who saw significant varsity time in 2011-12, scored just six points in his first three games before dropping 11 against Bishop Ward. Senior John Lean, the only returning starter from a year ago, scored a team-high 16 points in the season opener against Lansing. He's averaged just 5.7 points per game since then, but came up with six pivotal points in the win against Bishop Ward.
"John has scored in the past," Phillips said. "He's been down a little bit, but I'm confident he'll start to score and he'll be OK. "For a lot of these guys, this year is their first year as a varsity player, or they played last year and weren't counted on to be a scorer. It's just a matter of getting used to a different role. We've just got to make the right reads and trust our guys to make shots. That just might be the team we are. We may not have a dominant scorer, night in and night out."
Junior Eric McPherson, who also played a role on last year's varsity squad, will be out for several weeks after suffering a stress fracture in his foot. He averaged 4.7 points in the team's first three games, but didn't play against Bishop Ward.
In the practices leading up to the Chieftains' trip to ACHS, Phillips will continue to stress improvement and, perhaps more importantly, the significance of staying focused in tightly-contested games.
"When the game gets tight, the tougher team is going to be the one that prevails," he said. "A good, strong team is going to cause the other team to adjust to them. We hadn't done that until the second half against Ward, so we're trying to build on that."