THS

girls focus on adding depth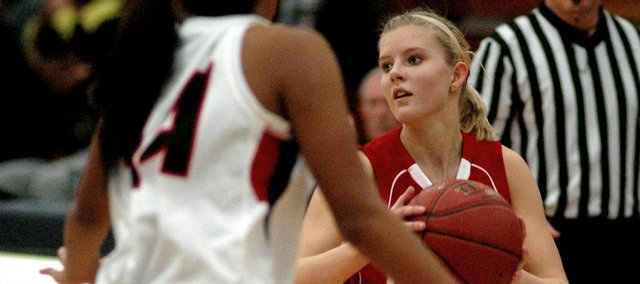 Girls KVL standings
League record, Overall record
Tonganoxie 4-0, 4-0
Bonner Springs 3-0, 5-1
Mill Valley 3-0, 4-1
Basehor-Linwood 2-2, 3-3
Piper 1-3, 4-3
Lansing 1-3, 1-6
Bishop Ward 0-3, 1-5
Turner 0-4, 0-6
As far as offensive production goes, the Tonganoxie High girls have been about as balanced as a team can be.
With all five starters averaging anywhere from 7.5 to 11.3 points per game, the Chieftains have five players capable of big games whenever the team takes the floor. That success has quickly translated into wins, as they're off to a 4-0 start to the 2012-13 season.
However, when play resumes on Jan. 4, coach Randy Kraft's squad is in for a test. Inclement weather just before winter break forced THS to reschedule its Dec. 20 game against Anderson County in Garnett. The game has been moved to Jan. 4, which means the Chieftains will open the 2013 portion of their schedule with three games in five days.
"It doesn't really change anything, but it does make us a little concerned," Kraft said. "We've played the fewest games of any team in the state, then to come back after a break, you're usually a little rusty. It takes a little while to get back into game shape."
Following the game against the Bulldogs, THS will return home to face Metro Christian Academy on Jan. 5 and Kaw Valley League foe Bonner Springs on Jan. 8. The Chieftains and Braves both are currently undefeated in league play.
Several players enjoyed big outings during the team's first four games. Junior Katelyn Waldeier had double-doubles against Piper and Bishop Ward, while senior Jenny Whitledge accomplished that feat against Basehor-Linwood. Fellow senior Hannah Kemp dropped 19 points — the highest single game total by any Chieftain this season — against Ward. All three upperclassmen are averaging 10 or more points.
Junior Emily Soetaert and senior Madee Walker round out the starting lineup with averages of 7.5 and 9.3 points, respectively.
"That's the team that we have," Kraft said. "We definitely have five players that can all score and we felt like, on any given night, we could get some good production from at least a couple of them, which give us a chance every night."
With the starting five firmly in place, Kraft has shifted the focus to developing depth. No reserve player scored more than four points in any of the team's first four games. Junior Kara Banks, the Chieftains' first player off the bench, leads all reserves with 2.3 points per game.
Sophomores Sarah Ahart and Tressa Walker will continue to vie for significant varsity minutes after seeing minimal time early in the season.
"It's a big transition from JV ball to varsity ball," Kraft said. "The speed of the game is pretty intense, it's a lot more physical. As soon as they adjust more to that and understand the role of coming off the bench, I think they'll keep progressing as the year goes."