Chieftain boys down Metro Academy for third straight win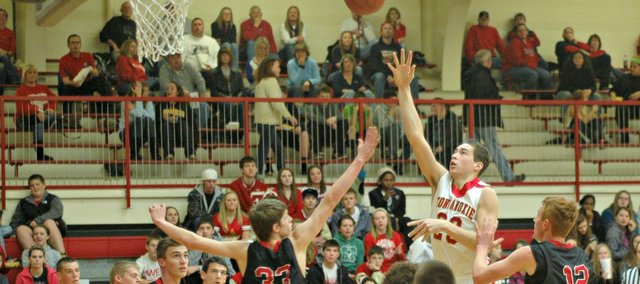 The start of Tonganoxie High's basketball season was less than favorable, but following Saturday's non-league meeting with Metro Academy, the nightmare is officially in the rear view mirror.
The Chieftains won their third straight game and got to .500 on the season with a 58-42 win against the Mavericks. For the second time in as many days, freshman Jack Dale led THS (3-3) to victory with a game-high 20 points.
"To get two wins in back-to-back days, that's big," coach Shawn Phillips said. "We started off playing some really, really good teams, but we told our kids that we had to keep playing. We had a lot of guys that hadn't played much. We're kind of starting to figure out our rotation a little bit better now."
Fresh off a last-second win Friday at Anderson County, THS wasted little time grabbing the momentum in its first home game of 2013. Phillips' squad raced out to a 15-4 lead and the end of the first quarter and never relinquished the lead. The Mavericks battled back to within five at halftime, 27-22, but the Chieftains used a dominant third quarter to extinguish the comeback attempt.
Dale had eight points before the break, but scored nine in the third quarter alone. Despite entering this season with no high school experience, he's enjoyed a solid start to the season, averaging better than 15 points per contest.
"The guys have really been helping me," Dale said. "The first day, they tested me mentally and physically, and I think that really set me up for what I'm doing now. The only reason I'm scoring is because they're setting me up with so many good passes."
The Chieftains enjoyed one of their most balanced scoring performances of the season on Saturday. John Lean and Ben Johnson joined Dale in double figures with 11 and 10 points, respectively, while James Grizzle added nine.
"I think our guys are getting more comfortable with what they're doing," Phillips said. "I think the game is slowing down for them. They're feeling confident because they've been there now, and they're ready to take on whoever is out there."
All of Lean's 11 points came in the first half, while eight of Johnson's career-high 10 came after the break.
THS will try to extend its win streak to four on Tuesday when it plays host to Kaw Valley League foe Bonner Springs. The Braves, which swept the Chieftains last season, are currently winless in league play.
"We've just got to come in with the same mentality," Dale said. "We've got to work on our defense and I've got to take better shots, but if we just keep playing like we are now, we'll keep winning."
Score by quarters
Metro Academy 4 18 7 13 — 42
Tonganoxie 15 12 19 12 — 58
Individual scoring
METRO ACADEMY — Sterling Knight 3-8 2-3 10, Collin Gerringer 2-13 3-4 8, Alex Goertz 2-5 2-2 7, Ryan Zitter 2-7 0-0 4, Tyler Gartenberg 1-3 2-4 4, Matt Duckett 1-1 0-0 3, Jonathan Price 1-2 0-0 3, Logan Hardage 1-4 0-0 3.
TONGANOXIE — Jack Dale 8-19 3-6 20, John Lean 3-6 4-4 11, 4-7 2-2 10, James Grizzle 3-6 3-6 9, Tyler Ford 2-5 2-3 6, Eric Tate 1-3 0-2 2.