Lean's heroics propel Chieftain boys to win at
ACHS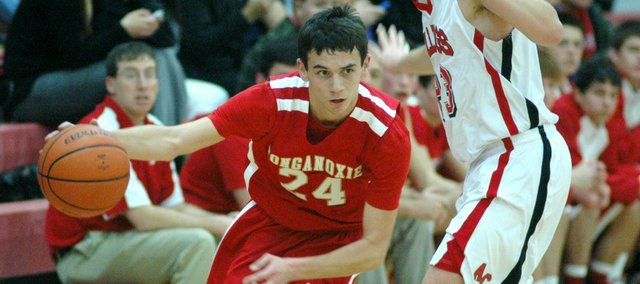 All of John Lean's 11 points came after halftime at Anderson County, but none were bigger than his final three.
Lean propelled the Chieftains to their second straight win with a 3-pointer at the buzzer, which capped off Friday's 66-64 victory against the Bulldogs.
THS (2-3) fell behind by four in the game's final seconds, but a conventional 3-point play by James Grizzle made it 64-63 with 12.6 seconds remaining. THS forced a quick turnover and called a timeout at half court with 1.5 ticks left on the clock. Lean received the inbounds pass several steps behind the arc, and his shot sliced through the net as the final horn sounded.
"I couldn't get open at the top of the key. I kind of had to go get the ball and shoot from a little bit further out than I anticipated, but I got lucky and it went in," Lean said. "We tried to keep our composure. Luckily, when Grizzle got the and-one, that put us right back in the game and we had a chance to finish it."
A back-and-forth battle unfolded from the opening tip, as neither team led by more than five at any point in the game. After the teams battled to a 13-13 stalemate at the end of the first quarter, Anderson County seemingly grabbed the momentum in the second. The Bulldogs used two short scoring runs to take a 33-28 lead into the break.
Any momentum the Bulldogs gained before halftime apparently stayed in the locker room, as Tonganoxie opened the third quarter on a 14-4 run to go in front, 42-37. The seesaw battle continued as ACHS regained its composure and forced a 52-52 tie at the end of the period.
"Really, this was the first game we've played that's been down the wire," coach Shawn Phillips said. "We executed OK, not great, but our kids kept fighting. They didn't panic when things weren't going well."
Neither team budged early in the fourth, as the game was still tied until the final minute. Back-to-back layups gave the Bulldogs a 64-60 lead with time winding down. Grizzle answered on the ensuing possession, which set the stage for Lean's last-second heroics.
"John is one of those kids who's not afraid to take a big shot," Phillips said. "That's a senior making a big shot in a big situation, so I'm happy for him."
Lean was one of three Chieftains to reach double figures. Jack Dale led the team with 20 and Grizzle added 13. Zach Hilliard scored 20 to lead Anderson County.
THS will have a quick turnaround before it plays host to Metro Academy on Saturday. The game will begin immediately after the girls game, which is scheduled for 1:30 p.m.
"Our legs are going to be tired," Phillips said. "It's a game where we'll have to be mentally tough. We'll be happy for a while, but tomorrow, we've got to be ready go to again."
Score by quarters
Tonganoxie 13 15 24 14 — 66
Anderson County 13 20 19 12 — 64
Individual scoring
TONGANOXIE — Jack Dale 8-12 2-2 20, James Grizzle 6-9 1-1 13, John Lean 3-7 3-5 11, Tyler Ford 2-4 2-4 7, Eric Tate 2-4 1-2 5, Brady Swedo 2-4 0-0 4, Ben Johnson 1-1 0-0 2, Jared Sommers 1-2 0-0 2, Blair Mathisen 0-1 2-2 2.
ANDERSON COUNTY — Zach Hilliard 7-10 2-3 20, Eric Tastove 6-15 2-2 14, Tanner Lickteig 5-11 2-3 12, Drew Mechnig 3-5 3-3 10, Spencer Walter 1-5 0-0 2, Eric Small 0-1 2-2 2, Tyler Woodard 0-1 2-2 2, Jack Rickabaugh 0-1 2-3 2.