THS

wrestlers take second at Louisburg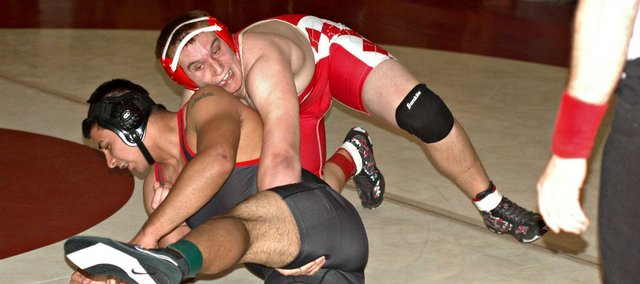 When Tonganoxie High wrestlers returned to the mat on Saturday, they did so after three full weeks away from live competition. However, the extended break hardly seemed to faze the Chieftains, who picked up right where they left off.
Powered by three individual titles, THS racked up 270 team points — good enough for a second-place finish at the Louisburg Wildcat Classic. Coach Jeremy Goebel's squad went a combined 38-19 and sent six wrestlers to the finals in their respective weight classes.
"The biggest thing for us was finishing better than we did last year," said Goebel, whose team won the tournament a year ago. "Last year, we went 38-17. That first time out after break is usually a little rough, but overall, I thought our kids wrestled well in terms of getting back in the swing of things on the mat."
Clayton Himpel (120 pounds), Asher Huseman (152) and Thomas Miller (220) each captured individual titles. Himpel won all three of his matches to improve to 20-0 on the season, while Huseman (20-2) and Miller (19-4) each went 5-0. Miller pinned all five of his opponents, giving him a team-high 19 pins in 2012-13.
Luke Carey (182), Julius Coats (195) and Zeke Kissinger (285) also reached the finals, but came up short in the championship round.
Raymore-Peculiar (Mo.) High School took home the team title with a score of 303. It was one of three Missouri schools in the 11-team tournament. Others were Joplin and Rockhurst, which took fifth and sixth, respectively.
"It's good to see fresh faces instead of the same teams week in and week out," Goebel said. "Being able to beat some elite kids from other states is going to help us in terms of seeding in our state tournament. Missouri kids are good on their feet, so for us to be able to score off their shots, it's only enhancing us."
The tournament marked the first action of the season for 2012 state qualifier Joe Wolf, who had been out of commission with a knee injury he suffered during the summer. Wolf, who wrestled at 145 pounds, won his first match before re-injuring his knee and defaulting in the second match. He'll undergo an MRI this week.
"That first match, it was awesome to have him back," Goebel said of Wolf. "He looked like the Joe Wolf of old. It's a core part of this team, just his enthusiasm and what he brings to the other kids. Hopefully, (the injury) is not as bad as we think it is."
The Chieftains won't be short on competition this week, as they'll will have wrestlers in action for four straight days. That stretch starts with Wednesday's junior varsity dual at Mill Valley, then continues Thursday when the team welcomes Spring Hill to town for a senior night dual. Coats, Miller and Gus Dent will be honored in a ceremony before the dual, which is scheduled for 6 p.m.
One day later, THS will head to Kaw Valley League Basehor-Linwood for the annual Bobcat Classic, where it took 11th last season.
"We have less days of practice (this week), so that means the days we're here, we've really got to prepare and get ready to go," Goebel said. "Every match from here on out is going to play a huge role in where we sit come February at regionals. We want to make that road as easy as possible, and that happens by going out there and wrestling for six minutes."
Overall team results
Raymore-Peculiar (Mo.), 303; 2. Tonganoxie, 270; 3. Blue Valley West, 211; 4. Lansing, 178; 5. Joplin (Mo.), 145; 6. Rockhurst (Mo.), 143; 7. Louisburg, 99; 8. Piper, 98; 9. Christ Prep Academy, 84; 10. Olathe South, 78; 11. Wyandotte, 44.
THS individual results
106 — Connor Yates, 2-2 (Fourth)
113 — Sinjan Gergick, 3-1 (Third)
120 — Clayton Himpel, 3-0 (First)
126 — Mitch Brock, 2-3 (Fifth)
132 — Dylan Yates, 3-1 (Third)
138 — Jordan Boudreaux, 2-3 (Seventh)
145 — Joe Wolf, 1-1 (Fourth)
152 — Asher Huseman, 5-0 (First)
160 — Alex Kroll, 0-4 (Ninth)
170 — Gus Dent, 2-1 (Third)
182 — Luke Carey, 4-1 (Second)
195 — Julius Coats, 3-1 (Second)
220 — Thomas Miller, 5-0 (First)
285 — Zeke Kissinger, 3-1 (Second)